The nominations are in and our lovely judge Kimberley from Nourish Northern Mama's has combed through over 110 anonymous nominations for both our Puddle Ducks Baby and Pre-school teachers and our Swim Academy teachers to choose just ONE winner. 
The Winner is.... JOANNE!  🎉
Thank you so much to all our customers for taking the time to nominate your Star Teacher. Choosing a winner is a very hard task because so many nominations stand out but here is the winning nomination as chosen by Kimberley: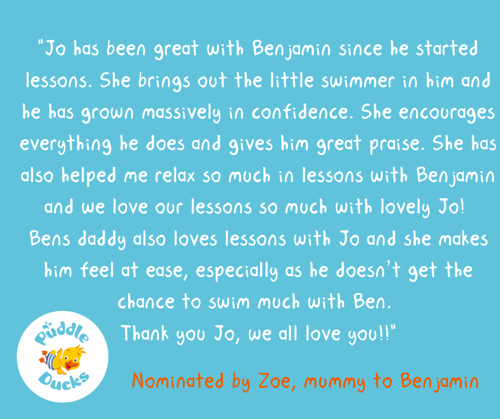 Thank you so much Zoe and Benjamin for your lovely nomination.  Kimberley says:
"This nomination in particular stood out because of the progress the little one had made with their swimming because of the instructors encouragement and dedication and how they also made the little swimmer and parents feel at ease. An inspirational teacher who deserves to be recognised! Congratulations to the well deserved winner and to all the instructors who have been nominated."
Thank you again to all our wonderful customers who took the time to fill out our nomination forms. Our winner has now been sent off to Puddle Ducks HQ, so Joanne can be entered into a National Competition.
GOOD LUCK JOANNE!!