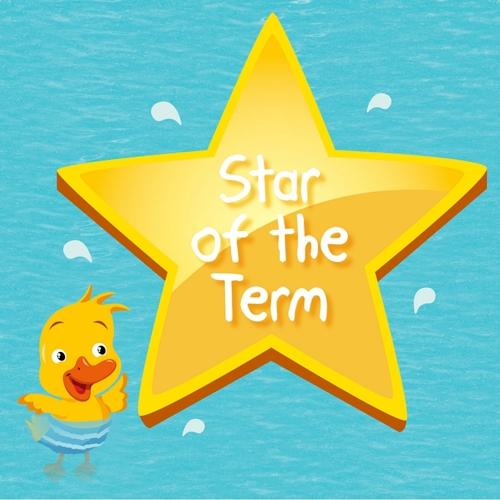 Once again, we have thought long and hard about our nominations for the Summer Star of the Term, it's so difficult to choose just two nominations each but here they are!! Congratulations to Nicole who was our overall winner for this term!
James C, Little Dipper, Cedar Mount - nominated by Claire.  My first nomination is James, he's a little Dipper that has been attending the classes since he was a splasher.  James went through water wobbles in Kickers and didn't grow out of them when he moved to Little Dippers.  He has been in that class for 2 years and mum has persevered all this time as has James.  He's always loved his lessons but would never put his face in the water.  We had a break through a while back when he started to put his face in but he was still nervous and wasn't confident to continue this every lesson or consistently during activities.  He has slowly built up his confidence and is now happily swimming head-down for over 4 seconds....this is such a huge achievement for James and still now he has times when he lacks confidence during certain activities ie: jumping in and still asks his mum to stand very close when he's about to do independent swims but still manages to increase the distance and time under the water during every lesson.  He is doing so well and now that he is ready for moving to Swim Academy in September and will no longer have his mum's support in the water, I feel he really deserves this nomination as recognition for all his hard work and determination and to encourage and praise him for his move to the big boys class.
 Ethan P, Splashers, DW Trafford - nominated by Claire. Ethan is a Splasher and has only been attending classes for a term.  He is so smiley, happy and enthusiastic in the water. He is so excited on the poolside when waiting for his class and once he enters the water there's no stopping those splashing arms.  He continually splashes and kicks throughout the lessons and absolutely loves submersions, which he starts and finishes with a big smile on his face.  Mum is very encouraging and it's obvious that she is so proud of her little boy and his confidence in the water and rightly so.  Seeing his little face light-up when he sees the water and watching both Ethan and mum enjoy the lessons so much really makes my day.
Hallie S, Little Dippers, Aqua Nurture - nominated by Sarah.  I have to nominate Hallie because she has had really tough time with her confidence lately.  She has swum with Puddle Ducks since she was a baby and always loved the water and was happy with the submersion's but she really is an example of how confidence levels can go up and down and has really struggled with putting her face in the water, letting go of Mum and generally progressing with her swimming.  However, she still loves her classes, is so super smiley throughout and where she does enjoy the activity, such as the woggles she has progressed really well and is enjoying it so much.  More recently, she and mum have experimented with goggles and we have focused on praising Hallie for all the things she's so good at in her classes.  This seems to have made a difference and Hallie has become that little bit braver each week - we even had a little dip of that face in during her bubbles! I know it's just a matter of time before she gets that confidence back and when she does I know she's going to just be fabulous and everything she has learnt will all just come together.  She deserves this award to give her that boost to get her there.
Annie, Splashers, Aqua Nurture - nominated by Sarah.  Annie has been with Puddle Ducks for 3 terms now, joining as a very little Splasher who was very unsure of the water, quite timid and not at all happy about submersion's. Annie became so very upset with any submersion activity that we stopped them altogether. Just given the signal and her face would tell us quite clearly that she didn't want to do it and as we always listen to our babies at Puddle Ducks we never forced her to do anything she didn't want to. As the weeks went by and we kept Annie above the water, she started to relax into the classes more and more. She splashed about, enjoyed the toys and all the songs.  We started to re-introduce the signal with the bowls and Mum and Dad have been great at practicing this at home.  Over time, she became comfortable with this and we gently re-introduced a couple of submersion's. During this term, her last before making the move to kickers, she has been happy and confident and now joins in with all the submersions and fully engages with the whole class. She's so happy and I'm very proud that it just goes to show how listening to our little ones and going at there pace is truly the best way.
Libby M, Splashers, Aqua Nurture - nominated by Jenna. I would like to nominate both Libby and her Dad! Libby is in Splashers and to say she didn't enjoy the pool when she started at Puddle Ducks is a bit of an understatement. As soon as Dad sat her on the mat she was in tears and this often lasted for the full 30 minutes, sometimes with a short pause courtesy of a duck to distract or a familiar song. All the time Libby was unhappy her Dad was so patient with her, keeping calm all the time and doing his best to encourage Libby to enjoy being in the water.  He persevered for 4 or 5 weeks of this, not once getting frustrated, still with a smile on his face because he wanted Libby to enjoy the water with the rest of her family. Over the last couple of weeks Libby has come to lessons a completely different Splasher, now enjoying every minute of the lesson, and myself and Dad are amazed! She is happy to come to me right from sitting on the mat and has joined in with all the activities and it was so rewarding to see Dad and Libby do an underwater swim together a couple of weeks ago. Libby has come such a long way in such a short space of time, being happy in the water, learning to trust me and enjoying underwater swims and she couldn't have done it without her Dad and his consistent positive, encouraging attitude - really well done Dad! It has been such a pleasure to see.
Ethan H, Little Dippers, Aqua Nurture - nominated by Jenna. When Ethan started this term he was extremely nervous and was very reliant on Dad in the water needing to hold onto him all the time, even getting his face down to blow bubbles on the surface was very scary for him. Very quickly Ethan's confidence in the water grew and he relied on Dad less and less, he was able to blow fantastic bubbles on the surface and was happy with Dad supporting his woggles rather than holding him in the warm up. The most important thing was the huge smile that I started to see every week on Ethan's face from the minute he walked through the door to poolside and didn't once leave it throughout each lesson. It was so lovely to see and even when I was asking Ethan to do activities that were new to him and he was a bit unsure of he got stuck in and tried them all with a smile on his face. He now swims independently on his woggles, and when I asked him if he wanted to try a turn underwater he was up for the challenge and gave it a go and still came up smiling, even though he was a bit surprised by it. It is so lovely to see how much Ethan enjoys swimming now, how well he listens to me and wants to do his best all the time and how proud his Mum and Dad are of him, and I am too! Well done Ethan, you have been a pleasure to teach this term.
Nicole R, Little Dippers, Reddish Vale - nominated by Jody. I would like to nominate Nicole for star of the term. Nicole is a lovely little girl who I have taught for a little while now. She is fairly shy and quiet in class and not one to shout out or volunteer herself that often. However, She listens and concentrates and this hard work has paid dividends. Her confidence has totally increased over the recent weeks and so has her independent swimming! I'm so proud of how far she has come, keep up the hard work Nicole!
Eric M, Kickers, DW Trafford - nominated by Jody. Eric is such a happy smiley little boy who clearly enjoys his swimming lessons. Unfortunately he has suffered a little bit this term with his ears but full credit to mum who brings him each week as we have worked together to ensure he can still swim each week and enjoy his lessons. We have tried no submersions/ear bands (Eric couldn't hear us!!) and finally a swimming cap has been the way forward, it means he is happy to be submerged again and can hear me singing! Eric loves 3 little puddle ducks especially and it's so lovely to see him joining in! Well done Eric!
Katherine H, Kickers, DW Oldham - nominated by Abby. When Katherine started in kickers not so long ago she used to climb up mum when she got in the water, she would cling on and say "no" to everything when I demonstrated it. She has come on so much the last month or so and her confidence has shot through the roof she now does all her submersions followed by a huge high 5 after!! I'm super proud of her and I think mum is too!
Alice E, Splashers, DW Oldham - nominated by Abby. Alice started in floaties and I've watched her grow so much and she is starting kickers in the new term! She is an absolute pleasure to teach and always has a huge smile on her face. No matter what I'm demonstrating for my splashers to do shes always clapping her hands (she's like my cheerleader!) I've never seen her cry she's always so happy and very water confident! I love seeing her kicking legs in her underwater swims and she always leaves me with a smile and high 5 when she gets out!
Thomas F, Little Dippers, Y Club - nominated by Ellie. Thomas has really struggled with confidence and letting go of Dad. He has finally gained confidence this term and is starting to gain independence.
Eleanor T, Splashers, Y Club - nominated by Ellie. Eleanor has screamed all through floaties and both she and her parents have persevered seeking advice and acting upon it. Eleanor moved to splashers and Mum no longer sits poolside. She had a few really good lessons and even took part in submersions. Last couple of weeks she has had another wobble but again they are sticking with it!
Ronnie-Marie R, Swim Academy, Aqua Nurture - nominated by Suzanne. Ronnie Marie has Hypermobility and has been told that this would affect her progress with swimming so she came to us with low confidence. However, from her first class with us she's been all smiles and has risen to the challenge and has progressed really well getting her 5m badge in her first term with us. I'm so proud of her!
Alexandra H, Splashers, Cedar Mount - nominated by Suzanne. Alexandra comes to every class with a big smile on her face and splashes from the start to the finish of each class, she really gets involved in all the activities, I've nominated her because she makes me smile so much with her enthusiasm and her enjoyment of her classes, she really is a joy to teach.