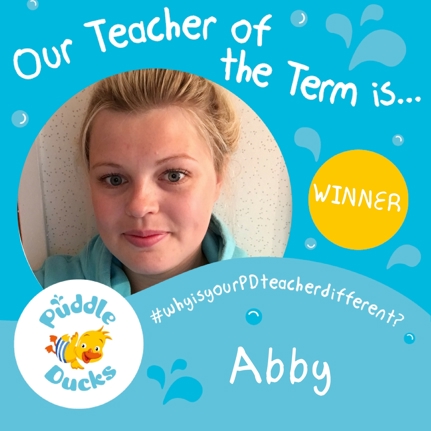 As many of you will know, every term we ask all our students and parents to vote for their Teacher of The Term - the person that they feel has gone out of their way to make their child either feel special, progress in the water or overcome barriers to their swimming.
We had an overwhelming response this term and we would like to thank everyone who sent in their nominations.
We are delighted to announce that Abby is our Teacher of the Term for 2017!
Jenni from MummyNatal antenatal classes very kindly took on the tough job of selecting a winner and this was the winning nomination from Isla and her mummy Heather...
"Abby has made us feel welcome, safe and excited every week since we first started when Isla was only 6 weeks old. Now at nine months Isla is flourishing and showing no fear in the water, and it's all thanks to Abby! She goes the extra mile every week to encourage and support all in the class, she's enthusiastic, engaging and always smiling!! We want to grow through classes staying with Abby all the way!! Xx"
We would like to say a HUGE well done to Abby and this is well-deserved recognition of the fantastic work you do with all your students week-in, week-out.
All your nominations and feedback are provided to the teachers and really do mean a lot to the whole team.
x