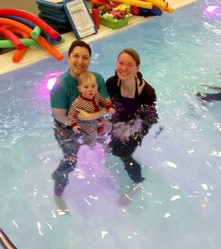 Puddle Ducks East Lancashire had fun raising £1,432.45 for Little Hearts Matter, a charity which offers support to anyone affected by the diagnosis of a single ventricle heart condition.
Every year, we hold a week long charity pyjama event where children raise money by attending lessons dressed in their pyjamas, teaching them valuable water safety and survival skills. This year our chosen charity was Little Hearts Matter, a cause close to our hearts, which supports one of our little swimmers, 19 month old Tristan, who lives with a rare heart condition called Heterotaxy Syndrome.
Little Hearts Matter aims to support, inform and empower children affected by single ventricle heart conditions and their families. The charity's free service ensures members have access to a wide variety of key information, help and practical as well as emotional support.
Our Charity PJ Week is the best way to teach our students important lifesaving skills in a fun and relaxed environment, whilst raising money for a great cause.
We were delighted to fundraise for Little Hearts Matter, we can see the fantastic work they do supporting Tristan and his family and we know how much Tristan enjoys swimming here at Puddle Ducks, so we knew it was a worthy charity to raise money for. We want to thank all of the children for all of their generosity in raising more than £1,000.
Mum to Tristan, Kate said: "We would like to say a huge thank you to Puddle Ducks, who use a hydrotherapy pool at their classes, this enables Tristan to stop wearing his wetsuit in the water, which helps him to regulate his temperature and enjoy the feeling of the water on his body.
"Swimming is a great form of exercise for children with heart failure as it is a personal sport, Tristan can do as little or as much as he feels able to, without the fear of letting team mates down. Tristan and I love our Saturday swimming lessons at Puddle Ducks, it's the highlight of our week."