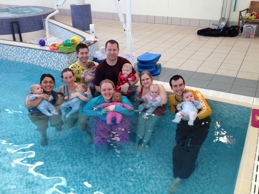 Swimming is a life skill that everyone should have, yet drowning is one of the most common causes of accidental death in the UK. The Swimming Training Association's (STA) Water Safety Week and Chorley-based Puddle Ducks East Lancs, whose teachers are all trained by the STA, are spreading the word about being safe around water.
With a number of pools, open water and beautiful beaches in the Lancashire region, it's no surprise that one in three children name swimming as their favourite past time. To reinforce water safety skills and to support the STA, Puddle Ducks East Lancs is using water safety week to get all pupils in their pyjamas to learn everything they can about what would happen if they were to find themselves in a difficult situation.
Jo Gribben, franchise owner of Puddle Ducks East Lancs said: "We want every child to love swimming, respect the water and most importantly, swim safely. That's why everything we do is geared towards teaching our children lifesaving water safety skills. You can't always be with your child so teaching them how to help themselves in water if the situation arises could save their life one day."
Five tips to keep safe around open water, swimming pools and whilst on holiday:
Read and listen to any warning signs you find
Do not enter the water in unsupervised / non-lifeguarded areas
In the winter be aware that frozen water can be thin and easily broken. The water beneath is freezing cold and is very dangerous
If you do find yourself in a difficult situation, stay calm and try to stand up if possible. Shout for help and wave your arm above your head so you can be seen
When on holiday, make sure you have an adult with you and someone on shore who knows you are swimming
STA, is a leading UK charity that is dedicated to the teaching of swimming, lifesaving and survival techniques. Its annual national water safety week includes a host of events and activities taking place all over the country designed to raise awareness about the importance of water safety and learning to swim.
Jo continued: "Teaching children to swim clothed, helps them to feel the resistance the wet clothes create. If you were to fall in open water it's likely you would be clothed, in fact 44 per cent of people who drown had no intention of entering the water in the first place.
"Even our babies take part fully clothed and are taught to turn and hold onto the side from six months old. Our older pupils are not allowed to wear swim hats and goggles during pyjama week and we even do exercises that teach them how to recover from being disoriented in the water."
During pyjama week, the focus is on fun and bonding for new and experienced parents and their little ones, meaning youngsters don't even realise they're learning to swim and are acquiring a skill that could save their lives.
For more information on water safety visit https://www.sta.co.uk/ where you can download their water safety booklet.