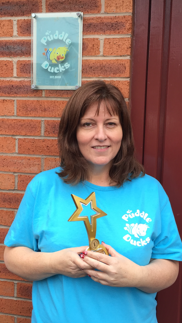 Puddle Ducks East Lancs has been named best baby/toddler class in the Raring2Go! Awards, a much coveted prize entered by more than 20 Bury-based organisations.
With classes at DW Bury and Millwood Primary School in Radcliffe parents from the whole catchment took to Facebook to make sure the swimming franchise got the recognition it deserves.
Puddle Ducks franchisee Jo Gribben is delighted to receive the accolade commenting: "Awards like Raring2Go! Bury mean a lot to us because they're voted for by the people who attend our classes and those who are passionate about what we do. I would like to thank anyone who took the time to vote for us we are over the moon with the prize, it's a real boost for me and our team of teachers."
Raring2Go! Bury is a local magazine dedicated to  delivering family-friendly information to parents and carers to enable families to enjoy the events, activities and offers that are available on their doorstep.

Jayne Deakin from Raring2Go! Bury commented: "It's been a crazy rollercoaster with the awards starting with nominations followed by the voting process for their favourite local family-friendly businesses.
"We've been overwhelmed to receive 2,161 votes in total – which is just amazing and way beyond what we were anticipating. One thing is clear, there is a whole lot of love out there judging by the comments and feedback I've received. We are so lucky in Bury to have all these fabulous businesses on our doorstep."

Puddle Ducks has no minimum age requirement for its classes, and takes on babies from birth or as soon as Mum (or Dad!) is ready to go in the water. Puddle Ducks also welcomes older children at its classes, taking on children up to the age of eight, so parents should never think their child is too old to learn to swim, grasp water safety and help to save lives.