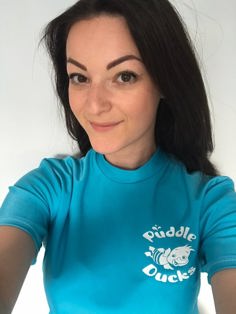 Puddle Ducks Lancashire is delighted to announce that Zoё Herman has qualified as an official Puddle Ducks teacher following rigorous training at Puddle Ducks HQ and an intense co-teaching programme which has resulted in her passing the final exam with flying colours. 
Zoё, who is expected to teach at Fitness First in Wigan as well as Millwood Primary School in Radcliffe, wanted to become a Puddle Ducks teacher after bringing her own little boy when he was a baby. Zoё said: "It was a wonderful bonding experience and I can't wait to pass that feeling onto other parents and babies when I teach my own classes.  
"I absolutely love the feeling you get when your class smiles at you when you get the technique correct it's simply the best feeling." 
Puddle Ducks Lancashire, is experiencing a time of growth despite being closed for most of 2020 and part of 2021 and is still on the look out for new teachers to join the franchise. 
Jo Gribben, owner of Puddle Ducks Lancashire said: "If you have a love of the water and would like a fulfilling teaching job then that's all you need to apply. We will provide all the training and guide you through the whole programme up to completion. 
"Zoё is proof of that. She has done so well to pass and we have already had excellent feedback from parents who are loving her sessions." 
If you're interested in working with Puddle Ducks Lancashire then you can make an enquiry by calling 01257 262 622 or email jobs.lancashire@puddleducks.com