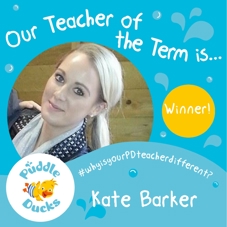 Congratulations to Kate Barker who has been awarded Teacher of the Term for Spring 2017. It was Kate's attention to detail to a particular student that won her the accolade after going above and beyond what is expected of normal teaching duties.
The winning feedback came from Vikki who is mum to Maxwell. Kate helped Maxwell to get over his aversion to woggles and this is what Vikki had to say:
"My nomination is for Kate, no questions asked. Maxwell has been unhappy in the water for a couple of months and we almost thought we were going to stop coming swimming because of it.
"That was until we had Kate one week on a catch up we booked. She was amazing! She took time to make him smile and for the first time ever he not only touched a woggle, but floated on one too. He even touched the float while Kate sang and smiled next to him.
"Although only 22 months old I delighted in him telling me "Maxwell like Kate swimming", so I'm pretty sure he'd nominate her too if he could. He's now much happier in the water and loves swimming again. (maybe one day he'll even sit on the float!)."
Well done Kate we are so proud of you. It goes to show how much hard work pays off when you go above and beyond for one of our little ones."
We are so proud of you Kate - thank you for delighting our customers.