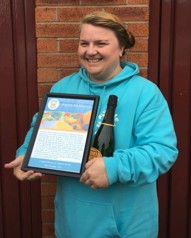 Teacher Kerrie McManus has been awarded Teacher of the Term for Summer 2016. We had lots of lovely feedback for all of our teachers which makes us very proud of our entire team. Below is the entry that swung the vote from dad Dave whose son Oliver attends one of our Little Dippers sessions.
"We'd like to nominate Kerrie for Teacher of the Term. It's difficult to pinpoint a specific reason why so I thought I'd outline a point in case of why we think she's great.
"Whenever Kerrie needs a volunteer to demonstrate an exercise or skill Oliver raises his hand. Nothing unusual there perhaps except he does it before he's even heard what she plans to do. Bearing in mind he isn't entirely happy doing some of the exercises it shows the level of trust she has engendered from him that he trusts her not to do anything he isn't confident with, but still pushing his boundaries.
"Ultimately she's made Puddle Ducks hugely fun for him. Something he looks forward to each and every week. For us personally that would be enough but while he's having fun he is coming on in leaps and bounds in terms of water confidence, survival skills and edging towards an independent swim."
Well done to Kerrie and to all of the other teachers who were nominated.