Puddle Ducks Lincolnshire Star Teacher – Autumn 2022 is...... Becky Dean!!!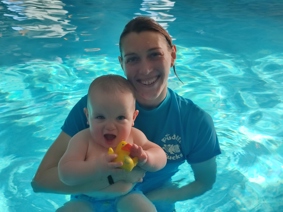 We often say we have the best job in the world and the nominations our customers have sent in for our Star Teacher award are absolute testament to that!
Jacqui Stamp, representing our PJ Week charity,
Childrens Hospital Pyjamas
selected the winning nomination, from Laura Ryder, mum of Splasher, Rory.
"Friendly, professional, knowledgeable and caring, Becky has supported us from Floaties to Splashers. She adapts teachings to each child's pace and encourages parent and child alike without being pushy.
"Safety always at the forefront of her mind, Becky always explain why different elements are important and what situations they could be used in. We feel completely at ease following her guidance and trusting her instinct to help Rory's progression.
"Clearly passionate about her role she makes learning a valuable life skill feel like just having fun. Our water confidence as a family is due to the lessons and her teaching. Puddle Ducks is my son's favourite part of the week and Becky contributes massively towards that!"
Jacqui said:, "She is very aware of her students individual capabilities and adapts lessons to recognise this.
Having safety at the forefront of her mind and explaining the different elements and in what situations they can be used would help make learning easier. Her teaching style gives confidence, not only to the student but the whole family."
Congratulations Becky and thank you Laura and Rory - your words mean so much!
Becky will now be a contender for the national Puddle Ducks Star Teacher award – good luck Becky!!