Puddle Ducks Lincolnshire Star Teacher – Spring 2023 is...... Jess Meakin!!!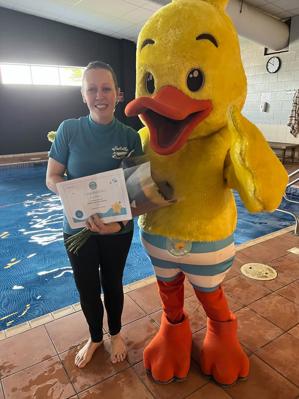 Tracey Evison, representing our
The Baby Fayre East Midlands
selected the winning nomination, from Ellyn Hughes, mum of Kicker, Freddie. She chose their nomination because: "The reasons for nominating included words such as engaging and passionate and this is exactly what you want in a Swim Teacher for your little one. But what I really liked is the fact that she's always got the parents back and helping them out with spare nappies, an extra swim shirt and even wipes. It's a big deal getting out the house on time for a class so it's good to know this particular teacher will make sure nothing is forgotten too. Well done Jess."
Ellyn said, "Jess has always been so engaging, passionate and conscientious in the pool. But more impressively she is super prepared. Whether it's offering an extra swim shirt for my son when he was a bit cold, or swim nappy when I forgot one, or even wipes and bin near the side of the pool when my son had a runny nose. She prioritises safety, teaches me as much as she teaches my son and she always has a cheery disposition. I'm so happy we found Jess's class."
Congratulations Jess and thank you Ellyn and Freddie - your words mean so much!
Jess will now be a contender for the national Puddle Ducks Star Teacher award – good luck Jess!!