Puddle Ducks Lincolnshire - Star Teacher 2019
Congratulations to Emma, who has been picked as our Star Teacher for Summer 2019! 
Thank you to ev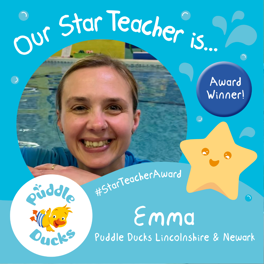 eryone who took the time to nominate we really appreciate it. 
We asked Isobel, one of our Swim Academy graduates, to help us anonymously select a winner and here is the winning nomination. 
"Florence and I LOVE Emma. I'm not very confident in water but she is amazing and makes me feel relaxed straight away. Emma is brilliant with Florence. I'd avoided swimming classes for over a year for various reasons but Florence instantly warmed to Emma and she now loves swimming. So many skills are covered in such a short space of time. Florence is now swimming on her own with woggles. She didn't even want to touch them before! Florence has gained in confidence thanks to Emma's gentle encouragement.
Emma has developed a wonderful relationship with Florence. She's firm but fair and fun too. Florence has flourished under her care. Thank you, Emma. You are brilliant."

Isobel selected this nomination "because of her encouragement towards a swimmer; as well as her mum. To accompany this, the determination and effort put into this little girl and her mum's confidence throughout the time they have been with Puddle Ducks is amazing. Being calm in the water is a vital step towards swimming .Well done to whoever has been awarded this award. Thank you for being such a supportive teacher."
A huge congratulations to Emma from the rest of the team at Puddle Ducks Lincolnshire & Newark, we think this is very well deserved. 
Emma will now be entered into a national Star Teacher competition, so we'll keep our fingers crossed!