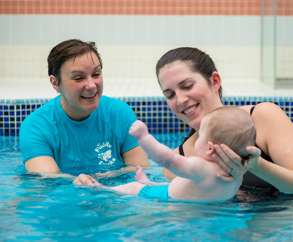 We are offering a course of 8 classes for the price of just 6! That's £78 instead of £104, when you sign up with us for September for the first time!
Baby swimming is one of the most amazing experiences you can share with your baby and it is one of the few things that you can both enjoy together.
With lots of eye and skin to skin contact, it's a wonderful way to bond with your baby where you can really focus on each other and enjoy this magical time together.
At Puddle Ducks, your little one is at the centre of everything we do and the children we teach can often swim over 10m before they start school!
We have a number of pools across Mid Cheshire including Beechwood, Delamere, DW Brooklands (Sale), DW Macclesfield, DW Warrington, Holiday Inn Runcorn and Weaverham. To find out more about this fabulous offer simply submit the form below:
 * Terms and conditions apply:
- Subject to availability
- Offer only applicable to new customers & Baby & Pre-school classes
- Offer expires 31st August 2016