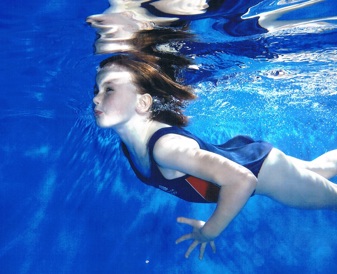 7 year old Puddle Duck Mya has been swimming with us from just a few weeks old and we are incredibly proud to announce that she has now been selected to swim competitively for a local swim school.
Proud Dad Tom said, "Mya's performance was observed in two classes and she was quickly chosen for competitive swimming (despite being the youngest at the tender age of 7). I believe this is as a result of Puddle Duck's excellent tuition and her crawl stroke was specifically commended by two separate instructors. Mya started Puddle Ducks at just a few weeks old in Autumn 2009 and we have hardly missed a class since then. I would like to thank everyone for the most professional and caring teaching that Mya has received - every teacher we've had has proved to be superbly qualified and kind." 
Franchise Manager Rachel Bateson commented, "We are incredibly proud of Mya - she has been a super star and we look forward to hearing all about her future success. She will be greatly missed!" 
Thank you to Tom & Mya

Mya's Dad Tom popped into the office to surprise us all yesterday with a lovely bunch of flowers. He is pictured here with our Franchise Manager, Rachel Bateson, and filled the office with joy as he praised the whole team and overflowed with enthusiasm about his experience with us at Puddle Ducks Mid Cheshire - we just wish we'd recorded him!