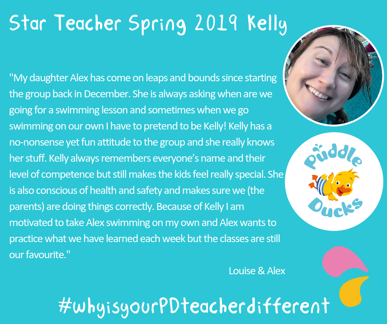 We know all of our teaches are super stars (or even super heroes) but one star is shining extra bright...Kelly has been selected as our Star Teacher for Spring 2019. Thank you to all of our wonderful customers for your nominations - they certainly brought a few tears to our eyes and we look forward to sharing them over our social media pages.
Stuart, from DW Fitness First was our judge, he selected this winning quote due to the fact the parents have gained the confidence to go swimming by themselves and that's huge:
"My daughter Alex has come on leaps and bounds since starting the group back in December. She is always asking when are we going for a swimming lesson and sometimes when we go swimming on our own I have to pretend to be Kelly! Kelly has a no-nonsense yet fun attitude to the group and she really knows her stuff. Kelly always remembers everyone's name and their level of competence but still makes the kids feel really special. She is also conscious of health and safety and makes sure we (the parents) are doing things correctly. Because of Kelly I am motivated to take Alex swimming on my own and Alex wants to practice what we have learned each week but the classes are still our favourite."
Thank you Louise & Alex for your winning nomination!