We are now making a splash with our Baby and Pre-school classes at Morningside Leisure in Hartford (near The Grange Junior School) on Tuesday mornings. And with pools nearby at Delamere and Weaverham, this means we can now offer our Baby and Pre-school classes every weekday!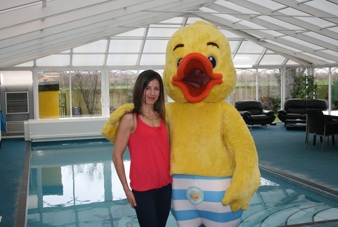 The Morningside Leisure pool is lovely and warm - perfect for babies and toddlers and with just 5 in a class, very exclusive. Our Puddle Ducks teachers are the most highly qualified in the industry, giving our customers the peace of mind that their little ones are being taught by the best. We are currently running an introductory offer for our new pool of 8 classes for the price of 6 - just £78 and this offer expires on 31st January.
Puddle made a visit to the pool himself and is pictured here with owner Angela Buckley who commented on the new partnership, "I was happy to have Puddle Ducks using the pool as they have an excellent reputation, with professional team members. Morningside Leisure pool is very much a family orientated place, and the pool is set in a relaxing warm environment. Perfect for babies and children learning to swim." 
We are also now swimming at the Seashell Trust in Cheadle on Monday and Saturday mornings. For more information, please call us on 01477 410080.