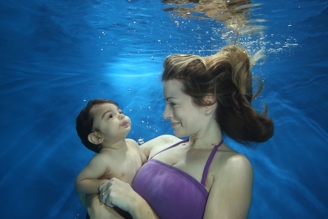 We are delighted to announce that due to popular demand, we will be running our next Underwater Photoshoot on Saturday 1st April at Beechwood Community Pool, Runcorn from 15:00 - 18:00.
Our photoshoots are split into 20 minute slots, each with a maximum of five babies or children. While you wait for your turn with the photographer, a Puddle Ducks teacher will be in the pool and do a mini-lesson so that you and baby feel relaxed and enjoy the day (and you get to enjoy an extra mini-lesson!). Each baby will have a minimum of three submersions with our specially trained Puddle Ducks submersion teacher and the photographer. You are welcome to have a photo with your baby or just have them on their own, it's entirely up to you!
All customers have to do to book their slot is call us on 01477 410080 - your place will be confirmed once payment has been received. The booking fee is £35 and prints are purchased separately.
Spaces are limited and will be booked in on a first come first served basis… so don't miss out! 
We look forward to capturing some special memories for you!
Click here for more information about our underwater photoshoots.