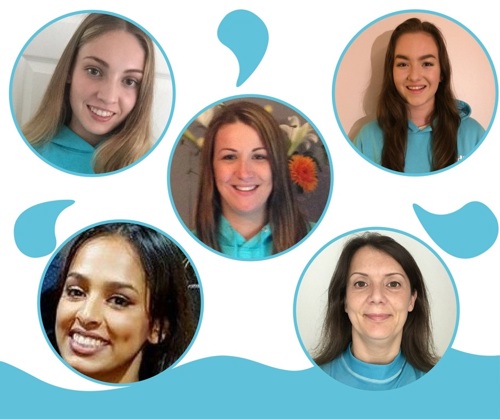 We'd like you all to welcome Tina, Sarah, Eleanor, Alison and Kay to our #MidCheshiredreamteam! Firstly we have Tina, who already teaches with our Derbyshire franchise. Tina teaches our Baby and Pre-school classes at DW Macclesfield on a Sunday and is already proving a great hit with our customers who nominated her for Teacher of the Term:
"We love Tina, she makes such a great connection with the children particularly my eldest, Isla, who has progressed so well under Tina's guidance and support. She's very enthusiastic and encouraging and we look forward to seeing her every week!" Chloe, Isla & Florence Wallace
Many of you will have seen both Sarah and Eleanor at Sandbach School on a Monday - they are our newly qualified Swim Academy teachers and are both absolutely lovely with our Puddle Ducks, who are making fantastic progress.
Alison has been working hard as our Poolside Assistant at Delamere and will soon be diving in to teach at Delamere on Wednesdays and Sundays. 
Last but not least we have Kay, who has just successfully completed her Baby & Pre-school training. She'll be teaching at the Seashell Trust and is already creating a great rapport with our customers, through her Poolside role. 
Huge big Puddle Ducks welcome to Tina, Sarah, Eleanor, Alison and Kay! Splash with you soon!