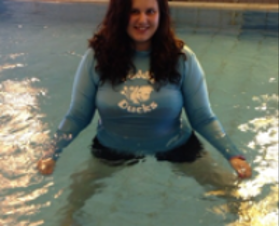 We asked our customers to submit quotes of up to 150 words, describing why their teacher should be selected as 'Teacher of the term' Independent  judge, Janine Rudin, who runs the Birth & Baby network, which we are so proud to be a part of,  judged the competition. As well as running the network, Janine is an antenatal teacher, doula, baby massage instructor and postnatal educator and very passionate about working with new and expectant parents.
This is the winning nomination which she selected:
"I would like to nominate 'Charlotte' as teacher of the term.
Charlotte has a lovely manner, and has used this to aid her in steadily developing Eliza's confidence in the water. Charlotte was aware that Eliza was not confident at all (and would cling to me throughout the sessions),  Charlotte absolutely 100% respected her, gave her space then steadily challenged her. The outcome has been that I now have a much more confident little Puddle Duck.
Eliza loves her swim lessons, and also loves charlotte.
Anna "
Charlotte also received 4 other independent nominations, a credit to her passion and dedication to create water confident little Puddle Ducks.
The competition is designed to raise awareness of the standard of Puddle Ducks teachers. To succeed our teachers have to stand out. In addition to becoming STA qualified, we are one of the only swim school to provide our own comprehensive teacher training  package, enabling us to deliver a service which is unbeatable in the market, Our mission statement is as follows:
"We want every child to love swimming, respect the water and swim beautifully. That is why our standards are the highest and our approach is unique"
We continue to live up to this statement and always go the extra distance to support our swimmers.
Puddle Ducks teach their Baby & Pre School classes, as well as their Swim Academy classes at many locations across Newcastle, North Tyneside, South Tyneside, Sunderland, Durham and Northumberland. We also offer FREE Aquanatal classes in Newcastle, North Tyneside and Durham.