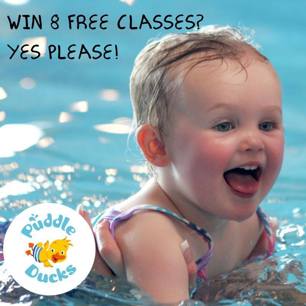 We love all our little Puddle Ducks so we've decided to give away a block of eight swimming lessons just for existing customers of Puddle Ducks North East. For your chance to win all you have to do is post a Puddle Duck themed picture of your little one on our Facebook page. The photo can be taken on the way to your lesson, in the cafe (if your venue has one), poolside, or in the pool during "Splash Time" if your pool allows. Extra challenge – can you get your teacher in the picture as well?
The winner will be the photo that receives the most "likes" so please encourage your friends and family to "like" your picture to win!
Terms and conditions:
1. Photos must be posted by the parents or guardian of the children.
2. Add your child's name and age when posting.
3. To enter photos must be posted below our competition Facebook post on www.facebook.com/PuddleDucksnewcastlenortheast the winning lessons must be taken in the North East franchise and are subject to availability
4. The competition is open to children from birth to 10 years only.
5. The competition will run until 30th April 2017 at Midnight. Any entries after this date will be excluded.
6. The winner will be the picture that receives the most 'likes' and Puddle Ducks North East's decision is final.
7. Puddle Ducks reserves the right to remove any photos deemed to be inappropriate.
8. The winner will be announced on the Puddle Ducks North East Facebook page on at noon on 1st May 2017.