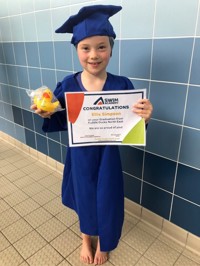 We said goodbye to 7 year old Ellie last week as she graduated from our level 6 class at Beacon Hill.
Ellie has been swimming with us every Sunday at Beacon Hill for seven years! She first joined us as a newborn in our Floaties classes.
Don't be fooled by her petite size either - this girl can SWIM!
Thank you Ellie for being a pleasure to teach and thank you to Ellie's very proud parents, Mark and Sarah for supporting our classes for so many years.
We look forward to continuing your swimming journey with Ellie's little brother Harry 
:)