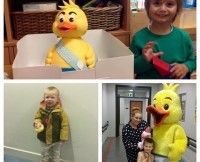 5 years ago, Carolyn taught our first Puddle Ducks in the North East at The Cedars School.  Today we teach over 1200 children across 19 pools in the region. What a journey we have to celebrate!
As always, we love to celebrate with our little swimmers. Here are our 5th birthday winners - Isa won a Puddle the Duck cake, Ellis won a visit from Puddle  and Matthew won ducks for everyone in his class.
2015 has been an epic award winning year for us – Carolyn won a national business award, being named 'Female Franchisee of the Year' by the British Franchising Association, the most prestigious award in this industry.  She also won Puddle Ducks' Franchisee of the Year for the second consecutive year.  Both accolades are a huge credit to our wonderful team here in the North East.