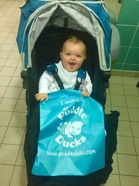 We celebrated our 6th birthday on 1st November here at Puddle Ducks in the North East.
We've come a long way since we first launched in the region in 2010 so to say thank you to all the customers who have supported us, every child who swam with us on our birthday received a free Puddle Ducks swimming bag. A little birthday gift from us to you.
Here's Posy, one of our Splashers who swims at Beacon Hill with hers!