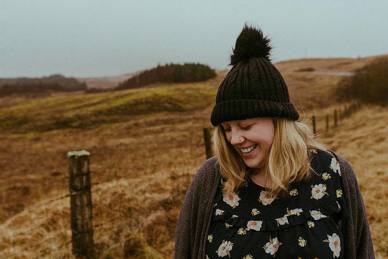 Meet Katie! Katie is one of our aquanatal customers and will be sharing her Puddle Ducks journey over the next few months in the form of occasional blog posts on our website. Here's her first post -
"Hi I'm Katie. I'm 29 and I'm having my first baby, due near to Christmas. 
I live in Wallsend with my partner, Chris and our crazy cats. 
We are both wedding photographers, and I have my own children's photography business.
On our days off we like road trips and days out, particularly around the beautiful Northumberland coast. 
We both have a huge love of Scotland and try and visit to explore when we can.
I'm a big Harry Potter fan and am planning a Harry Potter themed baby shower. 
I found out I was pregnant whilst on my way to Las Vegas after my friend's wedding in America... so baby is already quite well travelled. Definitely a fun story to tell the her when she's older. I couldn't resist buying a tiny pair of American Converse shoes to help break the news to Chris when I got home. He was very confused! 
The best things about being pregnant is the excitement of what's to come, and feeling baby kick is the best thing in the world.
The worst things about being pregnant are the tiredness, heartburn and needing to work all activities around needing a wee. Ha ha! 
I already love the support and sense community that other parents offer each other. I am really looking forward to the aqua natal classes and meeting some other expectant mums as well.
That's all for now!"
Click here to see Katie's business page: Katie Byram photography