Dates for your diary:
Cheeki Monkeys Nearly New Sale
20th Oct 2019 11.00am at Linskill Centre, North Shields, NE30 2AY
Sell your unwanted baby and toddler clothes and equipment at this sale, and then buy more! 
https://www.facebook.com/CheekiMonkeysNorthShields/
Little Nippers Nearly New Sale
10th Nov 2019 2.00-3.30pm at St Aidens Community Centre, Princes Road, Brunton Park, Gosforth, NE3 5NJ
A very popular sale with excellent baby and toddler bargains galore! You won't leave empty-handed but you might need a rest!
https://www.facebook.com/littlenippersbabyandtoddlersales/
Tiny Lives Nearly New Sale
16th Nov 2019 10.00am-1.00pm at Trinity Church, High Street, Gosforth, NE3 4AG
Always lovely, good quality nearly new baby stuff to buy and sell and raise money for a good cause as well. The November sale is always full of toys, games and gifts to start your Christmas shopping early!
https://www.facebook.com/tinylivesnearlynew/
Christmas Party!...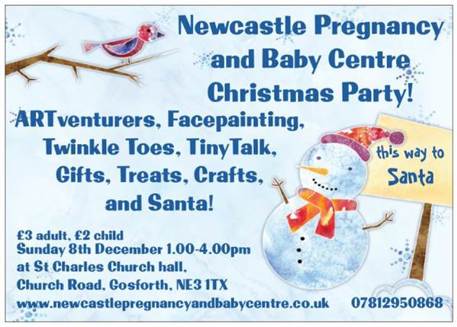 8th December 2019 1.00pm-4.00pm at St Charles Church Hall, Gosforth, NE3 1TX Adults £3, Children £2
Oh yes! It's the most wonderful time of year again! Santa is on his way!
Everyone is welcome to join in the fun at our Christmas Party with free refreshments, crafts and facepaints. Plus taster sessions from ARTventurers, Tiny Talk Baby Signing and Twinkle Toes. Lots of lovely local gifts to buy from Popolo Ceramico, Smallprint Silver Jewellery, Mellie Green Organics, for MAMA and BABA, Pretty Little Squares and Van-illa Treats! 
And it wouldn't be Christmas without a visit from Santa, of course! No need to book, pay on the door and have your Christmas shopping, Santa photos and Sunday afternoon entertainment sorted!
Fundraising...
In the Summer of 2018 we lost our lovely friend and colleague Jenny Thirlaway to cancer. The care she received at St Oswalds hospice was excellent, and that support is continuing for her family. We are raising money for St Oswalds hospice through the Be Brave for Jenny campaign. https://www.facebook.com/Be-Brave-for-Jenny-1710580232376182/
And we have just smashed our target of £10,000 and so far the total raised is £12,300! A huge thank you to everyone who has been involved and donated.
If you would like more information about any of our therapies, classes and more please see our website www.newcastlepregnancyandbabycentre.co.uk or contact us at [email protected]
Don't forget to follow us on Facebook: https://www.facebook.com/newcastlepregnancyandbabycentre