Lisa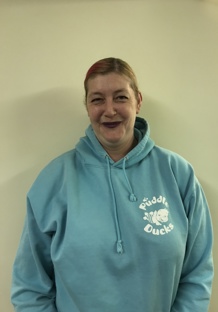 "Our 'Puddleducks journey' over the past year and a half with Lisa has been fantastic. From first nervously dipping our toes in the water, Finley (and Mum and Dad!) have been made to feel most welcome and supported. Lisa is an absolute natural at what she does; she has a fantastic down-to-earth style of teaching and really helps to grow confidence in all that swim with her. We've always found Lisa very approachable, and her sense of humour goes down very well with our little man very well!
Lisa is always able to make a suggestion when Finley decides to adopt his own approach to things in the pool, we think she must have done this before! 😉
Thanks Lisa" (Paul, Finley's Dad)
"I have already submitted a star teacher nomination but I'm not sure it has fully captured how fantastic our Floaties teacher is - Lisa.
I have only attended three sessions so far at Percy Hedley on Saturdays however I spent lots of time beforehand researching and looking for the right swimming class for Rosie-Mae , my almost 15 week old.
From her first bath she has shown she loves the water. Both my partner and I are non-swimmers and have very low confidence in the water. We knew we wanted to take Rosie swimming from an early age as we don't want her to have the same experience and negative feelings towards water and swimming.
The sessions we have attended with Lisa I cannot rate highly enough! She carefully explains each activity and explains how it can be progressed in next stages and how it supports swimming development. Not only is she brilliant with Rosie and the other babies in the group but she has also been encouraging and supportive towards me. I have never felt like I've been in a position where I have been expected or asked to do something I feel apprehensive about despite my natural feeling of being uncomfortable in the water.
In each and every activity I have been made to feel as relaxed as possible and she has very subtly supported me in trusting the woggle without making me feel pressured into anything - yesterday we had the woggle around us and our little ones to allow the babies to have a woggle supported swim with our hands free. As a non-swimmer this was incredibly scary for me; the idea of not holding Rosie-Mae with one of my hands to ensure she was safe was a very big deal. Whilst at first I did feel like I needed to support her with one hand for a while, Lisa did not pressure or appear to make any judgements of this. She very subtly talked positively about the woggle and why and how doing this develops the babies trust in the equipment needed for future swimming as they progress. Due to her very subtle, positive and reassuring manner, I did build the confidence to trust the equipment and release both hands. This may sound very silly but was a big step for me; a one that I could not have achieved without a teacher who had such a relaxed, positive and non-judgemental approach.
I do sometimes worry that my lack of confidence and swimming ability may hold Rosie-Mae back as she loves the water and seems to be doing very well, however I also know that I am in a great class with an excellent teacher who I can ask for help from. I naturally feel uncomfortable in any swimming lesson but this is starting to decrease in lessons and I am enjoying being in the water more and more - hopefully it will continue.
Whilst I am still very early into swimming sessions with Lisa, I did want to send this email to ensure you received the feedback on how brilliant I think the sessions are and how without her manner and style of teaching I would not be enjoying the lessons and that I appreciate the patience she shows with me.
Thank you for your time and kind regards" (Lisa, Rosie-Mae's Mum)
"Lisa is consistently excellent, with an easy manner that makes the class relaxed yet very productive. She ensures all of the kids feel included, always managing to watch and praise/give feedback. She is particularly adept at getting kids back on track, if one starts to get a bit sad or refuse to do an activity. She does it with good humour and keeps the class ticking over well-being no small feat with ten children and ten parents!" (Jane, Imogen's Mum)
"Lisa has taught Isaac since he was just 10 weeks old and we have the best lesson with her week in week out. Now in kickers, Isaac is so confident in the water and that is down to Lisa's rapport, teaching and positive attitude in the pool. Recently at a catch up Isaac was not his usual self and Lisa did all she could to calm and soothe him. She even came to see him once we were out and changed. It's something that small which makes the Puddleducks difference. Thank you Lisa" (Leanne, Isaac's Mum)
"Lisa remembers every child's name every week which is a lovely personal touch and makes us feel valued. Her classes are always very engaging and fun but also informative" (Simon, Sophia's Dad)
"We have just started recently our swimming lessons with Lisa. Rosie-Mae loves the water and we are very keen to develop her swimming skills and water confidence. I am however not confident in the water and a non-swimmer. In each lesson Lisa has been great with Rosie and has also supported me in relaxing in the water and has helped my confidence too. She carefully explains each activity and how it supports the little ones and how it progresses past Floaties" (Lisa, Rosie-Mae's Mum)
"Lisa is really sweet and always smiling. It's just been 4 classes with Puddle ducks so far and I have seen a great improvement with my little one and Lisa is very patient even if my little one cries at times. I have seen a great improvement with my little boy and Lisa has something new to try in every lesson. and she makes sure that the water is good enough for the little chaps to have their lesson even before we put our feet in it. Very first teacher and great teacher for my kid!!!" (Sindhu, Vivaan's Mum)
"Lisa has taught Mia since she was 3 months old. Now at 18 months old Mia is confident and trusts Lisa in all the different movements. Having just taken Mia on holiday her confidence in the water is remarkable. We look forward to continuing our lessons with Lisa" (Jonathan, Mia's Dad)
"Lisa is very encouraging, offering Erin lots of praise and engaging with her throughout the class. Her lessons and songs are clear and enthusiastic and she holds the attention of all of the children and parents. I have seen Erin develop a lot since starting with Lisa. Erin and I both look forward to our Sunday class at Percy Hedley and Lisa plays a big part in this" (Andrew, Erin's Dad)
Nadine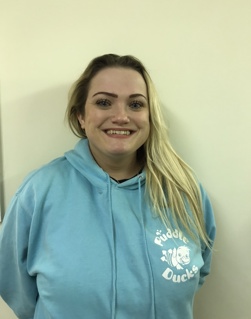 "Kinlee has only been at puddle ducks about 6 or 7 weeks . He was attending a different class but we decided he wasn't progressing as fast as he should. Kinlee is very confident in water but does not have a very long attention span. His old class was quite big and we just thought he wasn't getting the attention he needed. Since moving to puddle ducks he has improved massively in such a short length of time. Nadine is brilliant. She is very patient and picks up straight away if Kinlee seems to wander off into his own little world. She gets his attention straight away and he's back on track. She is very professional in her work, but makes it great fun for the children. It's plain to see they all love attending her classes. I'm so glad we made the move when we did. I just know Kinlee is going to do amazing under her instruction" (Veronica, Kinlee's Mum)
"I believe Nadine should win the star teacher award as she makes every session exciting and different. She has been great since we started with puddle ducks and is the reason we continue to do these sessions.
Lessons are always fun and she makes us laugh throughout. She genuinely seems to love her job and all the children she teaches.
What's good about Nadine is she gets to know the children and adjusts the programme around them individually so that their confidence grows. Other teachers I have had were more reserved and hesitated to take a crying baby where Nadine jumps right in and because of this has encouraged independence.
For Brooke she has really gained her trust and Brooke loves to go over to Nadine for demonstrations and every week when she knows we are going swimming screams with excitement" (Jessica, Brooke's Mum)
"Nadine has supported Henry from his reluctance to even enter the pool for his first few Swim Academy lesson, to becoming confident and getting to stage 2 within a few months. She then welcomed him to a new pool where he nailed his 10m in his first L2 lesson, and has then gone from strength to strength with his swimming, now doing 10m also on his back. He still has his wobbles in the pool from time to time but Nadine can always keep him on track, making him smile again with a joke or a smile. He loves attending SA now and adores Nadine. Thank you so much" (Carrie, Henry's Mum)
"Nadine has helped my daughter right from the start. She's come on leaps and bounds. Nadine is a brilliant and patient teacher and very enthusiastic" (Donna, Olivia's Mum)
"Week in/week out Nadine is always chatty with the parents and attentive to the babies/toddlers in her classes. Izobel has been swimming with Nadine for around 2 years now and I've recommended Nadine and Crowne Plaza to some of my friends with small babies and will continue to do so" (Lisa, Izobel's Mum)
Sam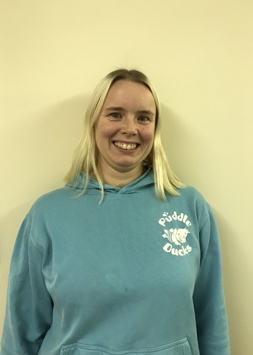 "We would like to nominate Sam at Keelman's Way for the star teacher award. We recently joined her class from another puddle ducks session and not only was she welcoming and made Keavy feel at ease, she is very involved with all of the children and provides continuous ongoing support and advice to parents, always encouraging the children to develop confidence and their swimming skills. She really is an asset to your company!" (Carla, Keavy's Mum)
"She's been great with Alfie since he started his swimming classes and always makes time for every child in the class both Alfie and myself enjoy our Sunday morning swimming class Samantha is helping us make some fantastic memories" (Alfie's Mum)
"Sam is always friendly and approachable. She takes time to make sure all little ones and parents are happy, she says hello to each little one by name every lesson which is a lovely way to start the lesson as it makes them feel special" (Ridley's Mum)
"Sam not only knows all of the children in her classes names but their personalities too along with which activities they do and don't enjoy during the lessons.
Elise has really started to progress in her swimming over the last few weeks and Elise's relationship with Sam has also developed further over these weeks too. In today's lesson, Elise actively went towards Sam for the teacher led activities and for activity demonstrations for the first time.
There are several classes closer to home for us but Sam is our favourite teacher and we are more than happy to travel to see her on Sundays" (Sean, Elise's Dad)
"Sam is just great! She's been very supportive of Jack since he joined her Little Dippers class. He's come on so much and has gone from having some real 'I hate water wobbles' to loving his lessons with Sam and being excited to come swimming. Sam is always full of encouragement and Jack thinks there's nothing better than his Sam high five at the end of class!" (Jill, Jack's Mum)
"Sam is a great teacher who really understands Matilda's likes and dislikes when it comes to swimming. She offers gentle encouragement for her to overcome her weaknesses in a fun and caring way" (Sophie, Matilda's Mum)
"Sam has been Rosie's teacher for a while now and Rosie loves her just as much as she loves swimming. She's always the perfect blend of fun and technique!" (Nic, Rosie's Mum)
"Matthew just absolutely loves her & can't wait to get into the pool. He's been with Sam since starting in Floaties, she's helped him overcome so much and supported dad when Matthew's been a monkey!" (Alison, Matthew's Mum)
"Sam and Nicola are always supportive of Annabelle and her swimming. This makes lessons engaging and fun and always positive. Annabelle feels very safe and this give her the confidence to try new skills in swim academy. We can tell she is very proud of herself" (Kelly, Annabelle's Mum)
Claire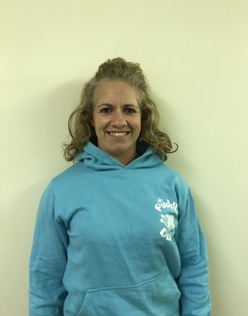 "I have to nominate both Julie and Claire as they both teach Lucas and both give that bit extra to help Lucas and make feel comfortable whilst in the water. They have just the right mix of patience and authority to get the best from him and understand if he's having an off day. They've both taught Lucas in the past and he loves having them as his teachers" (Yvonne, Lucas' Grandma)
"I first met Claire in January 2013 when I took my daughter to Floaties but I was genuinely surprised that she could not only remember me, my husband and my daughter but also details such as my job when I came back in September with my new 10 week old boy.
In a life of running around after older siblings and elderly grandparents Wednesday afternoons are an opportunity for Teddy and I to have some quality time. Claire is brilliant at making this time special in how she interacts with Teddy and explains why we do different activities but also how she encourages the class to chat and socialise.
I'll be going back to work soon but Wednesday will be my day off so I can still enjoy Claire's Splashers sessions with Teddy" (Joanne, Teddy's Mum)
"She is absolutely amazing with my daughter and all the other children in the lesson. She has helped with my daughters confidence so much. Thank you Claire!" (Alexandra's Mum)
"Ryan has been swimming with Puddle Ducks since he was 9 weeks old. He is now 4 and a confident Dipper who loves to be under the water. Ryan's swimming journey has been very difficult at times as he had very little confidence, didn't want to put his face in the water and we had lots of tears and tantrums. Not only was Claire was so patient and gentle with Ryan allowing his confidence to grow, she also supported me and told me to stick with it. Claire took an interest on what Ryan liked outside the pool and incorporated this in her lessons to help Ryan feel more relaxed . I am so glad I continued swimming with Puddle Ducks as Ryan now loves swimming and looks forward to going every week" (Sarah, Ryan's Mum)
"Claire has been fantastic with Abigail, she brings the best out in her. Abigail can be a handful and lose concentration quite easily but Claire keeps her focussed. Abigail has developed her swimming ability so much under Claire's excellent tuition and guidance. Abigail always enjoys her lessons with Claire as she has lots of fun too!" (Wendy, Abigail's Mum)
Sarah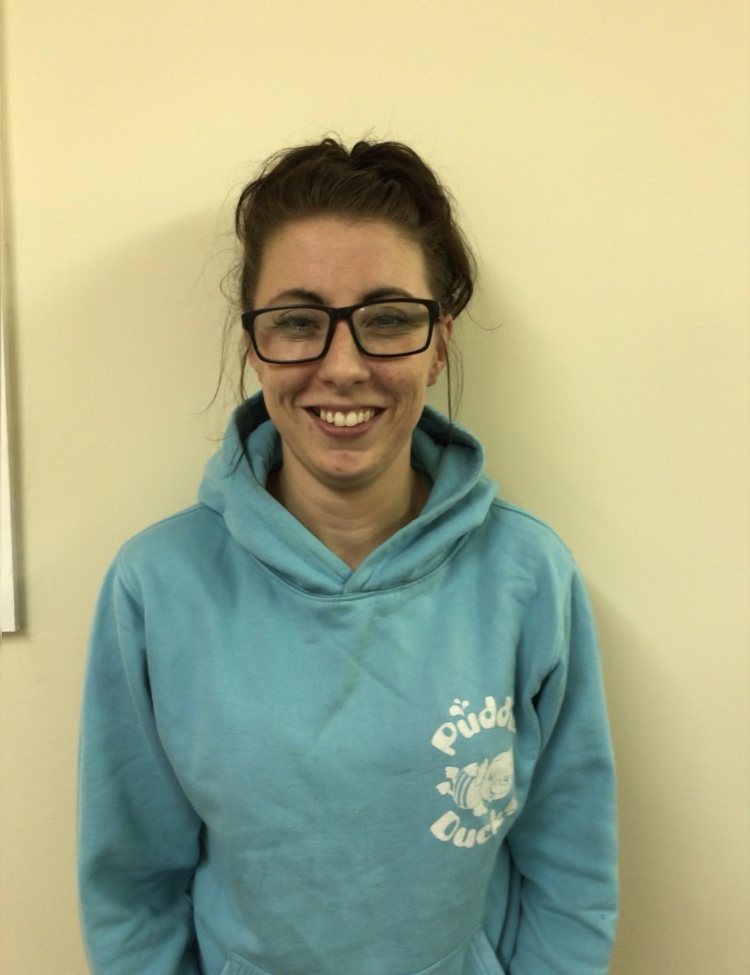 "I was nervous about starting swimming, however when I had my first lesson I knew I made the right decision choosing puddle ducks. Sarah is such a warm person and put my nerves at ease straight away. She is extremely good with each baby. I like how engaging she is and she ensures each baby is happy in the water. Sometimes I'm not sure how to do certain moves and Sarah helps straight away. She practises the moves on each baby and is very encouraging. Before the class Sarah comes to the changing room to make sure everyone is ok. Sarah should win the star teacher award because she deserves being recognised for how much of a fantastic teacher she is. She mentioned she is newly qualified which was surprising, as you'd think she has been teaching for years. I look forward to continuing my classes with her" (Prakriti, Yuvraj's Mum)
"Sarah is friendly, approachable and very supportive. My son has passed through several phases despite the short period we have been attending, including teething and finding his feet. Sarah has adapted the lesson content to help Theo engage properly, for example by offering exercises on his front when he was trying to play with his toes and sinking, at the same time she has given other mums slightly altered instructions so their baby can participate. She has also been very good at dealing with members of the public who have questioned her as to why we are there, why she 'chose such an inconvenient time' and some other negative questions; Sarah has been professional and clear in her responses" (Michelle, Theodore's Mum)
"Oliver absolutely loves his classes with Sarah. She makes them fun but is very clear in her instruction.
Oliver had a big gap from his previous stint of swimming classes and she has made the return very enjoyable. Thank you Sarah" (Erin, Oliver's Mum)
"Sarah has made such an effort with Romy since taking over our lessons. Romy doesn't take well to change and was very shy at first but every week since, Sarah has worked with Romy to build her confidence and a great rapport" (Fay, Romy's Mum)
Nicola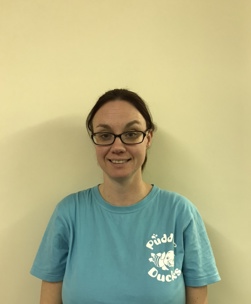 "Patient and kind whilst making everyone feel at ease. Lovely with our little boy" (Amy, Edward's Mum)
"Sam and Nicola are always supportive of Annabelle and her swimming. This makes lessons engaging and fun and always positive. Annabelle feels very safe and this gives her the confidence to try new skills in swim academy. We can tell she is very proud of herself" (Kelly, Annabelle's Mum)
Rachael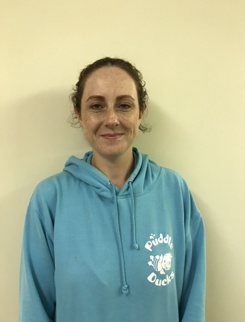 "Every week Beatrice wants to arrive at her lesson early with enthusiasm to find out what fun Rachael has in store and watch Rachael prepare her lesson. During the lesson due to Beatrice's admiration, Bea always wants to ask questions which Rachael waits patiently to finish despite a fast lesson turn around. As a parent (and past swim coach) watching Rachael manage early swimmers (and their parents!) and their worries with confidence, patience and a firm but kind approach is always warming. Rachael is a true credit to Puddle ducks, she's welcoming and strives to get the best out of the children she teaches. Her class management is of a high standard and each child is corrected, enthused and encouraged equally. Not easy when surrounded by toddlers!" (Nick, Beatrice's Dad)
Victoria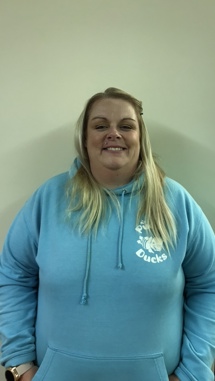 "Isaac took a huge knock to his confidence when he was moved up to the dippers class - Victoria has made a special effort to help him regain his confidence (and help me regain mine!) over the last few months and Isaac is now back to his usual happy self in the pool, thanks to Victoria" (Lynn, Isaac's Mum)
"Victoria is amazing! Victoria is very friendly and welcoming and her lessons are always well paced and fun. My daughter went through a bit of a tough time and went from being fearless and loving the water to not wanting to put her face in and being very unsettled. Without drawing attention to Molly, Victoria adapted the activities slightly to build up my daughter's confidence again and now she is back to loving her lessons and only gets upset in the pool when it is time to get out! We really appreciated the lovely, calm help and support Victoria gave" (Hannah, Molly's Mum)
"She is always so positive and helpful. Makes each session fresh and fun for both me and James. James as come on so much since starting puddle ducks and it's all down to Victoria and her lovely manner with the kids" (Amy, James' Mum)
Julie
"I have to nominate both Julie and Claire as they both teach Lucas and both give that bit extra to help Lucas and make feel comfortable whilst in the water. They have just the right mix of patience and authority to get the best from him and understand if he's having an off day. They've both taught Lucas in the past and he loves having them as his teachers" (Yvonne, Lucas' Grandma)
"Julie has been Oliver's teacher since he was in Baby/Pre-school classes and he has been in love with swimming ever since. Oliver is currently in Swum Academy L6 and due to finish his Puddle Ducks journey very soon, due to swimming with a higher club. Julie has always got Oliver and has brought out the best in him as he can be quite shy, his confidence is now shining through and it is so lovely to see. Thank you Julie" (Alan, Oliver's Dad)