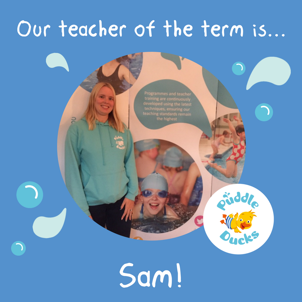 Congratulations to our teacher Sam who has won the teacher of the term award for Spring 2018!
Sam was nominated by a number of her customers but the winning nomination was this one from Alison Last (Matthew's Mum):
"Matthew has been taught by Sam since he joined Puddle Ducks. Sam has gone out of her way to welcome my partner (who takes part in lessons) myself and Matthew. Matthew has formed a lovely relationship with Sam, he loves to see her on a Sunday, can't wait to get in the pool and is more than happy to go and work with Sam (he doesn't take kindly to people he's not used to). Sam is really informative and has a lovely nature with not just Matthew but all of the children I see her with. I'd love to see this recognised."
Thank you to everyone who took the time to nominate your teachers, it really means a lot x