Lisa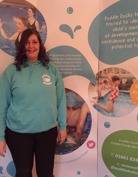 "Lisa has helped me and my sons' fears of diving under water. She was so calm and non-judgemental when I approached her about this. My son is now asking to do this for fun. What an absolute difference to the child who would refuse and whimper about it. It's so invaluable as a life skill and it has been a very proud mammy moment. Charlie always enjoys her classes and is confident in shouting out answers in the group. I think that is testament to how Lisa makes everyone feel in the pool including parents. It's great to always have a giggle too!" Gemma, Charlie's Mum
 "Lisa is an amazing teacher who clearly demonstrates everything extremely well. Matteo loves it and has improved every week! No learning time is lost and every element of the lesson is fun!" Katrina, Matteo's Mum
"We'd love to nominate Lisa (Percy Hedley) for teacher of the term. Is she always enthusiastic, knowledgeable and full of fun. She always includes all the children and parents. You can tell she genuinely cares for all. It is a pleasure coming to her lessons!" Laura, Lily's Mum
 "These two women (Lisa and Nadine) are amazing. Empathetic, enthusiastic, warm, generous with praise, constructive .Truly brilliant" Sue, Holly, Jack, Alfie & Lily's Grandma
"I'd like to nominate Lisa who teaches Ben's class at Percy Hedley on a Saturday afternoon. She's great at explaining why we do each activity and the benefits" Nick, Ben's Dad
 "Lisa has taught Eleanor since she was 10 weeks old. She's just turned 3!
As we all know there are ups and downs, terrible 2's then having a threenager to deal with. Lisa always knows how to handle Eleanor. If she's messing about she says they right thing to spur her on to do it right. Eleanor has a tendency to ignore her at first or pull a right scowl ha ha. Lisa is never put off and always perseveres until Eleanor has grasped what's been asked of her." Katie, Eleanor's Mum
 "Lisa is in a league of her own.  She demonstrates immense patience and is capable of the near-impossible task of holding a one-to-one ethos within in a group setting (even at full capacity), where individual needs are attended to while the general exercises are carried out.  The lessons are never repetitive and Lisa takes command of the environment which generates confidence in us so that we can do our best for our daughter.  Lisa's instructions and explanations are of the utmost clarity, and while safety is obviously her primary objective, her lessons are engaging, fun and something to look forward to every week" Matthew & Myriem.
"We would like to nominate Lisa Nesbit for teacher of the term, and quite frankly, we think we have some very good reasons! Our nomination is as follows:
From day one Lisa has been warm and welcoming to ourselves and our little boy, Finley. Lisa has a very natural way with the Puddle Ducks in her class, who all quickly seem to gain a real fondness for her.
Lisa has an enviable ability to memorise the names of her Puddle Ducks in her sessions and instinctively learns their individual personalities. She differentiates effortlessly within her classes, allowing each member of the group to get the most out of the session in fun manner.
Lisa is also quick to spot when a parent is struggling a little and is always there to offer advice or to inspire confidence when needed.
Her sessions are great fun, and truly enjoyable. The only down-side is that time passes way too quickly!" Stacey & Paul, Finley's Mum & Dad
"I would like to nominate Lisa for teacher of the term. 
Lisa is a fantastic teacher and put both us as parents and Ruby at ease from day one. She is patient and has a natural ability at bringing out the best out of our little girl in her lessons. Ruby has come a long way and loves being in the water and has no fear of it and that's a reflection of Lisa's teaching ability. Without such a good teacher there's no way we would have continued the weekly lessons because of the expense but we quickly realised just how invaluable the lessons are" Ruby's Mum & Dad
"I would like to nominate Lisa from Percy Hedley in Killingworth. Thanks!" Jenna
 "Lisa is lovely very patient with all the little ones, she's very technical and excellent at her job. She always has time for everyone and somehow watches all corners of the pool at all times. Thank you Lisa 😊" Azi & Rob, Danny's Mum & Dad.
 "Even though Tyler can be a right tinker in the pool. He had a lot of health problems which make him miss sessions and that never stopped Lisa from bonding with him and making sure he got confidence in the pool" Cheryl, Tyler's Mum
 "She's always great with Paisley, gets all the children involved doesn't just choose the same child for demonstrations etc. Always happy and involved with the parents" Carl, Paisley's Dad
Caroline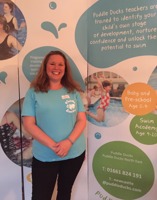 "Caroline is fab, she's so supportive. She's so welcoming and engaging and really gets to know each child. I feel she knows Molly's personality and her likes and dislikes and gives advice based on that knowledge. Molly has progressed so much in Caroline's lessons and we all look forward to our Sunday class" Hannah, Molly's Mum
"I want to nominate Caroline as the way she is with all her swimmers is unreal. We have had a few problems with our son over the last month as he was taking into the RVI. Our first lesson back the first thing she asked us was about his health and how he was she seemed so concerned it was as if Jakub was her child which made me feel as if Puddle Ducks was our little family in the Splashers class that we are in. I would vote and nominate her and think she deserves it 100%." Ashley, Jakub's Mum
 "Freddie absolutely loves Caroline and has turned from a screaming crying baby to a smiling excited terror who jumps round with excitement at getting into the pool. She's the most patient, kind soul and I genuinely cannot thank her enough for the time and skills she's given Freddie" Emma, Freddie's Mum
Sam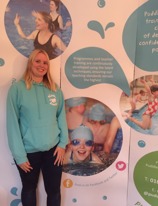 "Sam is an enthusiastic & patient teacher who always makes the lessons so much fun. Being a non-swimmer myself she has even built my confidence in the water" Aileen, Layla's Grandma 
 "Samantha is a really personable teacher. She gives excellent direction and takes time to explain why things are done a particular way and extra points for us as after 6 months swimming with another teacher she recognised Isaac straight away and welcomed him by name! So pleased to be back swimming with her again!" Michelle, Isaac's Mum
 "Sam has helped James massively with his confidence in the water. She has so much patience with him even when all he wants to do is mess about" Sandra, James' Mum
 "Matthew has been taught by Sam since he joined Puddle Ducks. Sam has gone out of her way to welcome my partner (who takes part in lessons) myself and Matthew. Matthew has formed a lovely relationship with Sam, he loves to see her on a Sunday, can't wait to get in the pool and is more than happy to go and work with Sam (he doesn't take kindly to people he's not used to). Sam is really informative and has a lovely nature with not just Matthew but all of the children I see her with. I'd love to see this recognised" Alison, Matthew's Mum
"Great teacher, my son loves her classes. He struggles with his confidence and this class and teacher seem to really help" Oliver's Mum
Nadine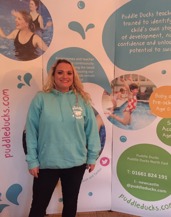 "Although I have only been at puddle Ducks for a short while, I would like to nominate my teacher Nadine for teacher of the term.
So far my experience with your company has been a positive one, I couldn't have asked for a more welcoming and supportive teacher.
Both my sessions have been full of activities and Nadine has gone round each child and parent and offered support. She has such a relaxed manner that makes each session enjoyable rather than worrying about things. You know that your baby is in safe hands and Nadine is so relaxed you can voice your concerns and she will help and advise you with no hesitation.
I look forward to continuing more sessions with Nadine as it is a pleasure having her as a teacher" Jessica Ross
"I would like to nominate Nadine.
The rapport and trust that she builds with the children is like no other swimming teacher. Since leaving Puddle Ducks we have tried various other swimming lessons and Livia, although able to swim, has basically refused to swim and was beginning to develop a fear of the water (basically because she was anxious about the lessons). We managed to get her into Swim Academy with Nadine and at the first lesson I fully expected her to refuse to get in but she got straight in and swam like there has never been an issue! Straight across the pool, face down and coming up to breathe. I was amazed to say the least.
Nadine has a perfect balance between being firm and stretching them but also understanding the children as individuals and how to get the best out of them" Katie, Livia's Mum
"I'd like to nominate Nadine for our teacher of the term. She is very enthusiastic in her singing and teaching and makes the time in the classes go by quickly. Nadine learns the names of all the babies and even in the larger sessions, she personalises the lesson for each parent / baby. Nadine has a lovely voice and manner with the babies, who really do respond well to her. Her classes are a pleasure to go to; we look forward to seeing Nadine every week. Nadine's classes are the main reason we've stayed with Puddle Ducks. Thank you, Nadine!" Shirley, Gabriel's Mum
"These two women (Lisa and Nadine) are amazing. Empathetic, enthusiastic, warm, generous with praise, constructive .Truly brilliant" Sue, Holly, Jack, Alfie & Lily's Grandma
Rachael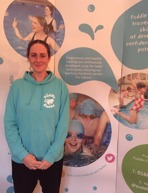 "Rachael is very safety conscious and you always feel like you're in safe hands" Jude's Mum
"I would like to nominate Rachael who teaches my daughter phoebe at Woodlawn little dippers. She is great with the kids, calm and encouraging. Always praises when they do well and when aren't sure on something or struggling she reassures them well. She is always friendly when they enter and leave the pool. Phoebe loves going to her classes" Bianca, Phoebe's Mum
Kimberley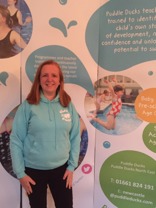 "My new Splasher, Grace, nominates Kimberley as teacher of the week because she knows straight away when a move or submersion needs to be amended or avoided if Grace isn't in the mood for it, is to wriggly or has the hiccups and always keeps the lesson safe and enjoyable. She also knows when to try something a bit more adventurous with Grace as she's a bit more confident and stronger than other babies her age" Grace's Mum
"We vote for Kimberly, we attend on a Sunday morning at Raddison in Durham, she has given us both our confidence back with gentle kindness and support" Rachel, Finley's Mum
"We would like to nominate Kimberley for teacher of the term. She has taught James since he was 3 weeks old and they have a fantastic relationship. Kimberley is always available to answer any questions and is always cheerful and friendly as well as a very good teacher" Natalie & David, James' Mum & Dad
Nicola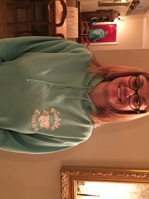 "Levison would like to nominate his teacher Nicola because she's very good at her job and she makes him happy and comfortable during his lesson.
As Levison's mummy I would like to nominate Nicola because she is patient, knowledgeable and professional. She always has a smile for Levison and her lessons are fun for him, she is the main reason we agreed to continue with Puddle Ducks when his previous lessons were cancelled.
Oh and she even made it through the snow this week🌟" Anneline, Levison's Mum
Julie & Claire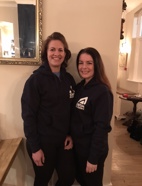 "I'd like to nominate both Julie and Claire. They both go out of their way to help Lucas and have so much patience with all of the children. Lucas is small for his age and sometimes struggles with stamina and strength but they help and encourage him all of the time.  He has been swimming with Puddle Ducks since he was a tiny baby with both Claire and Julie and his confidence and skills have improved so much since he joined swim academy" Yvonne, Lucas' Grandma