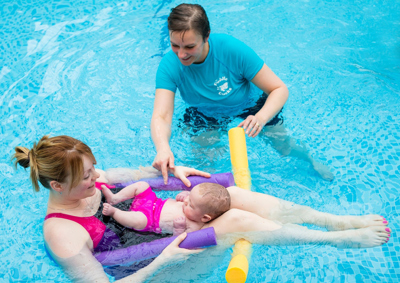 We are experts in aquatics, the standards of our teaching and our unique approach to working with children and parents will never be compromised. We are leaders, not followers, doing things our way, never cutting corners. Puddle Ducks is different, it is unique and it is the best quality swimming class around.
We have our unique building block programme from birth to independent swimmer and through to technical skill, developed by our very own swimming experts who have dedicated their lives to teaching swimming and ensure that Puddle Ducks remains at the forefront of baby and child swimming.
We tailor the activities to you and your child to make the whole journey fun and rewarding.
We build our programmes around the ways we know children learn best, through fun, singing, rhyme, repetition, mimicking and key word association, and without the use of buoyancy aids.
We teach children to love swimming, respect the water and swim beautifully. Our teachers are trained to the highest standards using programmes that have been specially developed and tested over a period of fifteen years.
We recognise that every child is different and learns to swim at their own pace. We are the only swim school that delivers tailored activities in lessons designed to grow with each child.
We focus on water confidence, not 'wow' factors. With bespoke music composed especially for our classes and free catch up lessons so that your little one never misses out, we are more than just a swimming lesson. That's the #puddleducksdifference