Kids of all abilities love the Puddle Ducks Swim Academy! Suitable for primary-school aged children aged 4 to 10 years old, we teach a natural and smooth swimming style, starting with simple skills that we build on in line with your child's physical ability and confidence. These are balanced with fun activities to develop skills including life-saving, floating and surface-diving.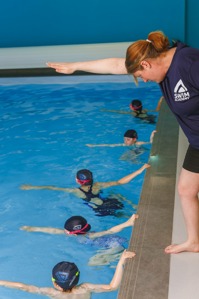 Whether your child has swum in our Baby and Pre-School classes, or has only ever dabbled with the family, we'll have a class that's just right for them.
Children are grouped by skill, not ages. If you are unsure which level would be most suitable for your child, or you would like further information on our Swim Academy classes, please complete the form below and we will be in touch shortly. Alternatively, email us on newcastle@puddleducks.com or call us on 01661 824191, we will always be happy to help.