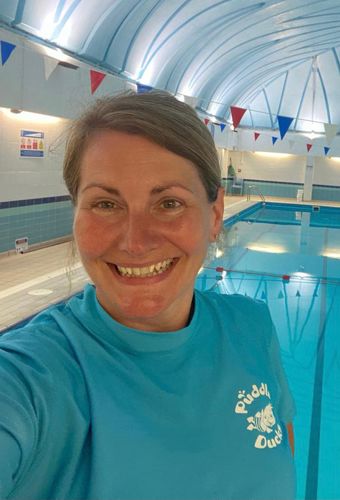 Trudie Norton, a firm favourite with parents and children who swim with Puddle Ducks North Hampshire and Reading, has been recognised, for her incredible teaching skills with the Star Teacher Award Autumn 2021.
It was mum Lisa who submitted the winning nomination after seeing her daughter's confidence in the water soar after joining Puddle Ducks North Hampshire and Reading. She said:
"Trudie is definitely a star teacher.
"Trudie has taken the time to get to know my daughter Lexi and Lexi's confidence has grown massively in the water in the six months we have been having lessons. Trudie explains why we are practising each of the things we do in lessons and builds on them each week.
"In last week's lesson Lexi jumped in off the float on her own for the first time and has started putting her face in the water - all down to Trudie's encouragement and support. During COVID, when Trudie was not able to join us in the water, she also took the time to explain and give us pointers of how I could improve my techniques of supporting Lexi and also where I need to let Lexi do more so she can progress. We've loved our whole experience."
Jo, owner at Puddle Ducks North Hampshire and Reading said: "The Star Teacher part of what we do at Puddle Ducks is a really important and happy time for our teachers. Receiving positive feedback is a real boost and reinforces why it's the best job in the world. The nominations this time around meant even more to our teachers since they have, until recently, been confined to the pool side due to Covid-19 restrictions. We are delighted to see that we were still able to maintain our high standards despite such obstacles."
Trudie said: "Teaching for Puddle Ducks is a real passion of mine. I absolutely love seeing the children progress and build in confidence week in week out. I am delighted to hear I have made such a difference to Lisa and Lexi."