Liz and Phil Gabriel and their fantastic team are delighted to run Puddle Ducks Baby and Toddler swimming classes across Nottingham, Mansfield, Leicester and Loughborough 
From the moment your child is born you want them to be confident in the water and learn to love and respect it. Puddle Ducks will take you and your little ones on a magical journey that starts with a splash and transforms into beautiful strokes that encourage strong swimming for life.
We know all children are different. That's why our clever teachers tailor activities within lessons to suit your little one's ability and confidence to ensure they progress at a rate that is just right for them. This individual approach means you can join our classes at any time suit you.
Little ones that love swimming…that's the Puddle Ducks difference!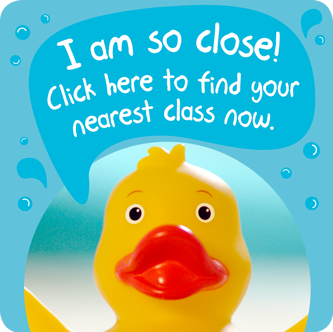 How do we operate?
Classes are booked in blocks of 10 lessons and run throughout the year (with the exception of School holidays) and can be joined at any point. 
An ongoing sibling discount of 10% is awarded for your second child if you book in two or more children with us. Plus if a group of friends wish to book we offer 10% off your first block of lessons for groups of 3 or more! You do not need to book into the same class just book at the same time!
Unlike other swim schools we also offer "Courtesy Classes" which allow you to attend an alternative lesson to your normal lesson on a different day or time or at a different pool, We simply ask 24 hours notice of your non attendance. 
For more information or to book a space in our Baby & Pre-school classes, please complete the form below and we will be in touch shortly. Alternatively, email us on nottsandnorthleics@puddleducks.com or call us on 07906 191504 
We will help you choose the right class for you and your little one and then be there every step of the way on the wonderful, rewarding journey that is learning to swim.