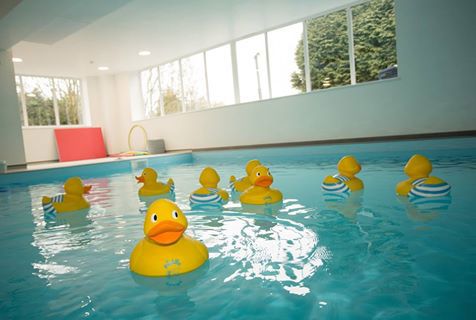 Do you own an indoor pool or know someone who does? Would you like to earn hundreds of pounds a month without having to do much?
Puddle Ducks Nottinghamshire, North Leicstershire and South Yorkshire are always on the look out for new pools. If you have an indoor pool - either in a business facility or your house, and you'd like to find out if it is suitable for our classes, get in touch on nottsandsouthyorks@puddleducks.com
We pay great hire rates, have all the appropriate insurances and aim to have minimal impact on the facilities we use. We can keep class sizes small and we can work with owners to find the most suitable and convenient way to hire the pool. We can make most sizes and shapes of pools work for us by tailoring class sizes, so even if your pool is small - we could be interested!
You could make money from doing nothing but maintaining the pool you already have! We cover the whole of Rotherham, Sheffield, Worksop, Mansfield, Nottingham and Loughborough (with everything in-between)!
We look forward to hearing from you!