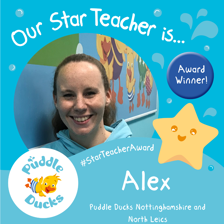 Puddle Ducks Nottinghamshire and North Leicestershire Star Teacher – Spring 2020 is...... Alex Shelton-Knight!!!
We often say we have the #bestjobintheworld and the nominations that our customers have sent in for #StarTeacherAward are absolute testament to that!
Shirley Towle, the owner of the Family Grapevine in Nottinghamshire, a local magazine for parents from pregnancy to teenagers chose the winning nomination, from Elisabeth and Beatrice. Shirley wrote that yet again, it has been a really tough decision to make as she was so impressed with all the wonderful things that parents have written about our teachers. In her opinion, all our teachers are all stars!!
A huge congratulations to Alex and thank you to Elisabeth and Beatrice - your words mean so much:
"Alex is a really special teacher. She tailors all the activities to each child's ability and spots opportunities to push children when they are ready and supports those who aren't. She is patient, professional and Beatrice has made unbelievable progress under her instruction over the last 2 years. She loves the water, is confident and has gained real life saving skills - all credit to Alex." 
Alex will now be a contender for the national Puddle Ducks Star Teacher award – Good luck Alex and many congratulations as this is very well deserved!!
Alex teaches our Baby and Pre School lessons at The Key Health Club.
Thank you to everyone who nominated their teacher for the Star Teacher award as it really means a lot to the individual teachers and also us as a team. We hope that you enjoy reading every nomination received, all of which are detailed below as they speak volumes about our teachers and the work that they do with both the parents and children who swim with us.
Nominations:
Alex Shelton-Knight
"We definitely want to nominate Alex who teaches our daughter Amelia. She took a while to get used to enjoying the water and we often had to go to the side and play with toys or get out early due to her becoming upset. Alex made me and my wife feel fine about this and encouraged us to keep coming and not feel guilty for, in our view, interrupting the class for others. Now Amelia loves her lessons.
Alex is really good at knowing when she's happy and getting her involved and when she needs to let her be with me. Ultimately, Alex made us keep going and now Amelia will reap the benefit of that."
Nominated by Craig, Serena and Amelia
"We would like to nominate Alex from The Key Health Club. We've been swimming with Alex and Puddle Ducks for a year now. Alex is fantastic. I have a disability and Alex was aware of this before my first lesson. She will always check that we are okay with something new and I never feel treated any different from any other parents. My daughter is always happy to see Alex. We love swimming!"
Nominated by Michelle and Lily-May
Jayne Ascott
"I would like to nomination Jayne for the Star Teacher award. I have been taking my now 4 year old son swimming at Rainbows since he was 12 weeks old - Jayne was there from the start. Now my son has joined Level 2 Swim Academy and I genuinely believe that without Jayne's encouragement and nurturing, he would not be where he is now.
Jayne is always friendly and always happy with a smile on her face. She is understanding, super engaged with the children and when times are hard and the little ones scream because they do not want to swim, she gives the reassurance that parents need. 
I am so happy that Jayne is now teaching my second son to swim."
Nominated by Aisha, Jesse and Lewin
"I nominate Jayne at Kirby Muxloe as I couldn't ask for a better swimming teacher. I would highly recommend Jayne and Puddle Ducks to anyone."
Nominated by Melissa and Savannah
"Please can we nominate Jayne. She taught my daughter Gabriella's first Puddle Ducks class in September 2016 and has today taught my son Sebastien for the first time. It was so nice to see Jayne's smiling face when we arrived at the pool. She made us feel at ease straight away and we both loved the lesson. She's an amazing teacher! We can't wait for next week, Sebastien bonded with her straight away and was very proud he had the same teacher as his sister had. Thanks Jayne, we are so pleased to be back in the pool with you xx"
Nominated by Caroline, Gabriella and Sebastien
Rebecca Pridmore
"We would like to nominate Rebecca Pridmore at West Gate School. Rebecca is great and very patient. She has found a way to communicate with James to help him participate more and do what he is supposed to do. This has boosted his confidence and he is enjoying his swimming again. He may have autism which has caused him to change but Rebecca has worked hard with him to find a way to get him to enjoy his classes again. Now on a Wednesday he gets excited in the car on the way to swimming. Thank you so much Rebecca!"
Nominated by Liz, Jon and James
Rebecca Edwardson
"I would like to nominate Rebecca. She teaches our Floaties class on Thursdays at The Key Health Club. We have only done 2 lessons but were recommended by a friend and I can see why. She is very patient and calming, explaining why she is doing each activity and how it benefits the babies.  She is the reason we come to Puddle Ducks rather than a more local class."
Nominated by Emma and Theo
"It is so difficult to make a decision as I love all of the teachers, particularly the way they teach and how they find a personal approach to each child.  I would like to nominate Rebecca from The Portland Centre - thank you for the job you are doing!"
Nominated by Elena and Daria 
"I would like to nominate Rebecca from the Key Health Club. Every week she is enthusiastic and happy, and she pays attention to each child in the class and treats them as individuals. My little boy can be temperamental, and she manages him very well and never makes me feel like a burden! He loves the activities involving jumping in or Rebecca swimming him to me, and he also loves the watering can she gives him!"
Nominated by Rosalind and Frederick
Heather Mooney
"I nominate Heather as she is truly fantastic, not just with my little girl but all the children. She makes learning so much fun and my little girl looks forward to her swimming lesson every week.  I wish Heather was teaching when my oldest child was learning as my oldest didn't seem to enjoy it like her little sister does. I'm sure Heather has made this huge impact - She is a wonderful asset to Puddle Ducks!"
Nominated by Joanne and Marley
"We would like to nominate our children's teacher Heather. Our son Alastair has just gone into Dippers and has come on leaps and bounds since moving into her class. Her ability to build a rapport with the children and personalise their learning is amazing and really appreciated by both us and the children. We love her lessons so much that we have also enrolled our daughter Ivy into her Floaties class. As a parent we really appreciate her kindness, commitment and happy attitude - Thanks Heather!"
Nominated by Lucy, James, Alastair and Ivy
"We would like to nominate Heather who teaches at Every Sensation. She is always very energetic, enthusiastic and has a good handle on the children and their individual abilities. Heather is very personable and friendly and our son really enjoys attending his Dippers class with her. He listens to her well and respects what she says in the pool. We would like to see Heather recognised for her hard work and dedication."
Nominated by Bernie, Sarah and Harry
"We would like to nominate our teacher Heather. My son Albie only started lessons at Puddle Ducks at the start of January and initially he would not go to Heather in class and didn't like to be used in demonstrations.
Just under two months later, Albie has moved up a class and enjoying every minute of his lessons - smiling, laughing, splashing and kicking the whole way through. Albie and I have learned a lot in Heather's lessons and we always have a good time!
We can't wait to carry on and watch Albie's confidence grow. A massive thank you to Heather for making the lessons enjoyable!"
Nominated by Emma and Albie
"I'd like to nominate Heather for the Star Teacher award. Our daughter Charlotte loves her. She looks forward to coming swimming every Sunday and always has a big hug for Heather! 
She has been very supportive of Charlotte and has taught her so much so far. In particular, she has helped Charlotte obtain her 5m award, encouraged her with diving and built her confidence with swimming in general. We hear lots of the songs that she's learnt at swimming lessons at home too!  
Nominated by Chloe and Charlotte
"I'd like to nominate Heather who teaches at Your Space in Mansfield. My son James loves his lessons with Heather on a Saturday. She is fun and caring and we look forward to our lesson each week. James has been known to get excited for swimming on Saturday from Wednesday!!! 
Heather was supportive of myself in lesson when I was pregnant and I'm already looking forward to bringing our newest addition to lessons with her. She clearly loves her job and as a parent I love watch my son grow in confidence in the water thanks to Heather's great teaching."
Nominated by Jo and James
Nikola Nascimento
"Nikola, I was a bit nervous when I first came to Puddle Ducks but you put me at ease. You make my swimming lessons so much fun and every week I look forward to showing you what I can do. You encourage me to get a little more confident every week and I can now do mermaid swimming! Thank you Nicola and I can't wait until Saturday morning - Love Matilda xx"
Nominated by Miranda and Matilda
"I would like to nominate Nikola at the Key Health Club. She has been wonderful in supporting Jack in his progression to Swim Academy. He starts the lesson crying as he is nervous about going in on his own and is beaming by the end thanks to her kindness and encouragement. We would have given up if it wasn't for her! Rachael is very nice too by the way!"
Nominated by Helen and Jack