So, you want your child to learn to swim.
Let's help them learn the right technique, in the right environment, with the best people.
Let's give them the courage to be fearless, make friends, swim strongly and have fun.
Then let's see where those skills might take them.  
SWIM ACADEMY. LET'S DO THIS.
Brought to you by the experts at Puddle Ducks.
Swimming is a journey, not a destination and here at Swim Academy, we learn and have fun all the way! Download the image below and find out how we'll take your little one from 'happy getting their faces wet' to 'swimming 100m using 3 different strokes'!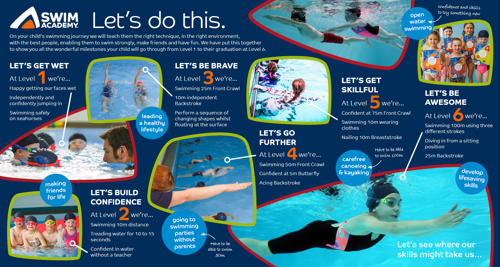 We are continually evolving and improving our programmes in line with new research and guidance on swimming and child development as and when it becomes available but also in line with what we learn internally about our swimmers and the way they progress through our programmes. As experts in teaching babies, toddlers and pre-school children to swim, we have this unique insight into child development and have integrated our findings into Swim Academy, our programme for 4-10 year olds.
The programme has been running and developing for 10 years. Our lesson plans are accredited by the leading international swimming body, STA. 
Technically, we focus on beautiful swimming and the right technique. Our programme deconstructs each stroke in a unique way.
Whether your child has swum in our Baby and Pre-School classes, or has only ever dabbled with the family, we'll have a class that's just right for them.
Children are grouped by skill, not ages. If you are unsure which level would be most suitable for your child, or you would like further information on our Swim Academy classes, please complete the form below and we will be in touch shortly. Alternatively, email us on nottsandsouthyorks@puddleducks.com or call us on 07906 191504, we will always be happy to help.