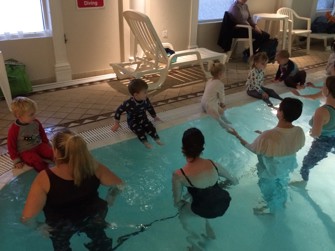 A group of children from Puddle Ducks Oxfordshire had fun raising over £1000 for SSNAP, a charity which provides Support for Sick Newborns and their Parents and are based at the John Radcliffe Neonatal Baby Unit. 
Every autumn we hold a week long Charity Pyjama event where children raise money by attending lessons dressed in their pyjamas, teaching them valuable water safety and survival skills. 
Puddle Ducks asked their swimmers to vote for which charity they would like to raise money for, and this year SSNAP was chosen.
SSNAP is a charity dedicated to supporting the families of sick and premature babies. They provide emotional and practical support to families, fund innovative and life changing equipment and their research fellowships will ensure lasting change to how babies are cared for and treated in neonatal units in the John Radcliffe hospital, across the UK and around the world. 
Beccy Stenson from Puddle Ducks explained, "Our Charity PJ Week is a great way of teaching our students important lifesaving skills in a fun and relaxed environment, whilst raising money for a great cause.
"We were delighted to fundraise for SSNAP, they do fantastic work and some of customers and staff have benefitted from the work the charity does, so it was close to our hearts. We want to thank all of the children for joining us this week and for all of their great work in raising over £1000".
We would also like to thank the following businesses who donated prizes for the raffle:
Farmer Gows (www.farmergows.co.uk)
The Nursery Shop, Abingdon (www.thenurseryshop.com)
Sweetness and Pea, Fairford (www.sweetnessandpea.co.uk)
Sing and Sign - Oxfordshire (www.singandsign.com)
Baby College Oxford (www.babycollege.co.uk)
De Vere Oxford Thames
Mini Professors Science Classes Oxford South (www.miniprofesssors.co.uk)
The Pottery Place, Witney (www.thepotteryplace.co.uk)
Mads & Moodle - Baby Feet Casting (www.madsandmoodle.com)
Eastcott Studios, Swindon (www.eastcottstudios.co.uk)
The Organic Farm Shop, Cirencester (www.theorganicfarmshop.co.uk)
Itsy Bitsy Imprints (www.itsybitsyimprints.co.uk)
Updoo (www.updoo.co.uk)
The Shake Shop, Witney (www.shakeshop.co.uk)
Push Start Marketing (www.pushstartmarketing.co.uk)