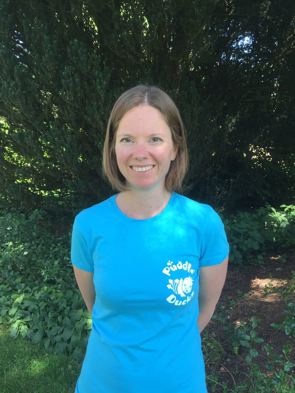 We are so pleased that Felicity (Flis) Goldsmith, our Senior Teacher, has won the National Teacher of the Term prize awarded by the Puddle Ducks Headquarters in Chester.
Flis is Puddle Ducks Oxfordshire's Senior Teacher. She was nominated by Anna Poole and her children Isla & Louis. This is what they had to say:
"I would like to nominate Felicity as swim teacher of the term. She has amazing patience with the children in her swim groups and their parents. Her natural ability to engage the children in her swim group is outstanding. Her help, support and high quality swim lessons have resulted in my son confidently diving down under the water to pick things up, happily putting his face in the water and have a passion for swimming.
"My daughter (now 5) started from 18 months - she didn't progress very quickly due to a fear of water. Felicity supported us through this by encouraging her, persevering with her and building her confidence at an appropriate pace. Felicity's continued efforts meant last year she swam 25m! She also took part in the Puddle Ducks Swimathon swimming a very impressive 150+ metres. This achievement is the result of having such a fantastic teacher!"
This nomination was chosen by Ella & Cat, two work experience girls who spent a week at Head Office learning the ropes. This is what they had to say:
"We thought the teacher demonstrated qualities which every teacher should and managed to really help a child when they faced issues which many might go through and they managed to overcome this and also achieve something really good"
Well done Flis!