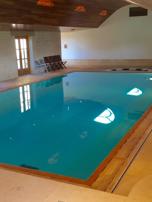 We have now extended our swimming lessons to include Thursdays as well as Wednesdays at our new Lechlade Pool.  The lessons will run from 10am to 12pm (please see our pools and classes section for specific times)
It is a lovely private pool in a secluded area of Lechlade.  The water and changing areas are nice and warm and we have a poolside assistant on hand for any assistance you may need with your little ones.
The lessons are for children aged from birth to 4 years old and they can start at any time during the term.  You can contact our office at any time to book your first lesson for free.