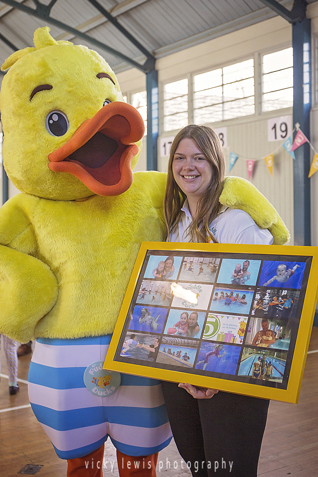 Beccy Stenson, our franchisee, has a reason to celebrate as she has just signed up for another 5 years with Puddle Ducks and is expanding the business into Wiltshire.  We already cover Oxford, Abingdon, Witney and surrounding areas and parts of Buckinghamshire and Gloucestershire. 
"I became passionate about baby swimming after taking my eldest daughter, Isabella, to classes when she was four months old.  I have always been a keen swimmer and Isabella's lessons quickly became the highlight of my week.  She is still a keen swimmer and loves spending time at the pool. My youngest, Amelia, started swimming at seven weeks old and is equally at ease in the water.
I enjoyed baby swimming classes so much that I decided not to go back to my original HR career and starting teaching baby, toddler and pre-school swimming lessons instead and I can honestly say that I have never looked back!"
We have also teamed up with several local businesses to launch our new Rainbow Reward loyalty card for customers.  The discount card is a way for local businesses to support each other.  They have teamed up with 5-6 different businesses in 4 areas (Witney, Oxford/Abingdon, Cirencester & Buckinghamshire) to produce a reward card to give out to customers offering discount.
Photo credit: Vicky Lewis Photography