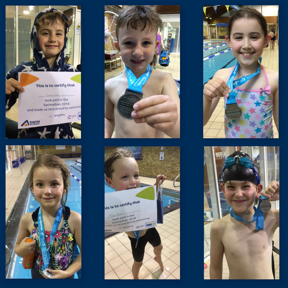 Puddle Ducks Oxfordshire are celebrating after their swimmers managed to swim over 3km for Swimathon 2018 raising money for Marie Curie and Cancer Research UK.
The 2 teams each needed to swim 1.5km at Kidlington and Gosford Leisure Centre raising over £600 for the charities.
Puddle Ducks Oxfordshire are a local based swimming company who offer lessons to 0-10 year olds across Oxfordshire, parts of Wiltshire and Gloucestershire.  The children who swam ranged in age from 4 to 10 years old and all of them beat their personal bests.
Puddle Ducks Oxfordshire said "We are so proud of each and every one of our swimmers. They all put in a huge effort to push themselves to do as many lengths as they possibly could; in all cases more than they had originally aimed for. Two of our swimmers had never even swam a length on their own before! Their enthusiasm and energy was infectious and everyone had a huge smile on their face for the whole afternoon. They all left the pool proudly wearing their medals."
This is the 3rd year that the swimming company has taken part in the Swimathon, the world's largest annual fundraising swim, and they have raised over £2,500 in total so far.
The Swimathon, which was arranged by Flis Goldsmith, Senior Puddle Ducks teacher, was a huge success and was enjoyed by the children and parents.