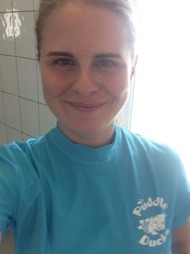 Congratulations to Emily Shipman who won this terms Teacher of the Term competition for Puddle Ducks Oxfordshire.

A big thank you to Suzi and Charlie for your lovely nomination.
"I would like to nominate Emily Shipman as teacher of the term. Not only is she always so friendly and welcoming, but even in a large class she manages to make each child feel special. She recognizes when children need extra attention and tailors exercises really well to make sure everyone can participate. She shows a real interest in how the children are developing, not just in swimming lessons. She has also helped me out personally outside of class with arranging future weekend lessons for my little boy. Even though he is only 9 months old, he clearly is excited to see Emily every week and loves his swimming lessons. My only disappointment is that we won't be able to carry on doing lessons with Emily due to my return to work."

Thank you to our guest judge Ruth Saville at First Steps Consultancy for choosing the winning nomination.
First Steps Consultancy offers Baby Massage classes, both in groups and on a one to one basis.
Massage can help to soothe common infant problems, such as Colic, Reflux, Constipation and Teething Pain. Bookings being taken for Burford and Faringdon classes now, and more locations to be confirmed. Classes are currently on Saturday Mornings, so great for Dads too! Get in touch with Ruth for more information or to book your place [email protected] or call on 07969 451366.
First Steps also specialise in sleep and behaviour advice, and has different services to offer support with these, as well as various other childhood challenges, such as breastfeeding, fussy eaters, potty training and sibling rivalry.