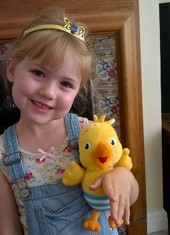 Many congratulations to Eve Henshall, our Star of the Term!
Eve is one of our Little Dippers. When she first joined us she wasn't so keen on the water, and certainly didn't want to let go of Mummy. We used to hear the words "I can't do it" a lot, but both Eve and her mummy stuck with it, and she now happily swims around the pool independently on her woggles, puts her mouth in the water to blow bubbles, and even managed a fantastic standing jump at the end of term (I may or may not have "got something in my eye" when that happened)
Nothing makes us happier at Puddle Ducks than watching a child overcome their fear of the water, and start the journey towards being a confident and graceful, and most importantly, happy, swimmer.
Well done Eve, and best of luck at school in the autumn!