This weekend it's the Cardiff Half Marathon.  The race is on Sunday, and on Saturday the city plays host to the Festival of Running - 'An entire day of athletic entertainment to get you and your family's heart racing' on the City Hall lawns.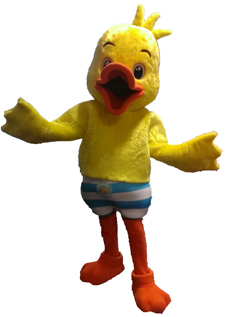 Puddle the Duck will be there on the Saturday from 11-3, and would absolutely love for you to come down and say hi!  You can enter our #GivePuddleACuddle competition to win 10 FREE LESSONS worth £150!!
The fun starts at 11am, and the first race is a toddler dash at 11.30am.  
At 11.50pm Puddle will be running in the 100m mascot race, come and cheer him on!
12 noon is the start of the 2.4km family race, and then after that it's the races for each age level from U13 to U20.
There's music, face painting, food and entertainment all day, as well as the opportunity to try out all sorts of different sports activities for free.
For more information, please visit the Festival of Running website.  Can't wait to see you all there!