Thank you so much for considering joining one of our classes at the Novotel Cardiff on a Monday or a Friday.  We love this pool and absolutely can't wait for you to start your Puddle Ducks Journey with us!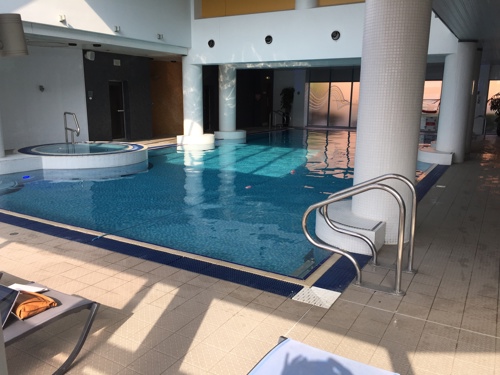 At Puddle Ducks we want every child to love swimming, respect the water and swim beautifully. That's why our standards are the highest and our approach is unique. Your child is truly at the centre of everything we do, and we work tirelessly to be at the very forefront of best practise in the baby swimming industry.

This pool is a definite favourite with our swimmers and it's easy to see why!
It's a beautiful pool in a great location
The water is lovely and warm (30-31 degrees)
Lovely changing rooms
Large car park (and 3 hours free parking so time to get a coffee after your class too!)
Did we mention the café?  
Plenty of loungers for spectators to relax!

We have the following classes running every week:
Monday:
Friday:

Our classes are all geared towards giving your little one choice; we know it's impossible to have a 'one size fits all' approach and our teachers are experts at tailoring every single activity to the confidence and ability of each individual child. You can join at any time, it doesn't matter if you're super confident or have never dipped a toe before; everyone is welcome at Puddle Ducks! We work with you and your child to progress them at their own pace (our child led approach has been proven to lead to faster independent swimming). Our recent blog post here explains what makes us different to other swim schools.

Instead of having terms as such, you can join our at any time, and pay for 10 lessons at a time which costs £150.
 
If you ever miss a class you can make it up on a different day. Just log in to your online account at least 24 hours before the class to let us know you can't attend. This will issue you with a Courtesy Class. When it's convenient, log in to your account, click 'book a Courtesy Class', choose which alternative class you'd like to attend and just turn up! Please see here for full Courtesy Class FAQs.

We also have a satisfaction guarantee which allows new customers to cancel your block and receive a refund of remaining classes, should you not be happy with our lessons, so long as you let us know at least 48 hours before your fourth class.

And if that's not enough, when you sign up we'll send you a voucher for a photography experience worth £135 from our friends at Studio 27 Photography!

I hope that all makes sense? If you'd like to join us (or there's anything else at all we can help with) please give us a call on 07852 475906. Or complete the form below and we'll be in touch asap. Or if you're ready to go ahead and sign up (remember you can always cancel up to your third class if you change your mind), you can book in online here. Just click on 'join now' for whichever class you need, complete the form and click 'complete booking and pay' to pay for your first ten lessons.

Hopefully see you in the pool!