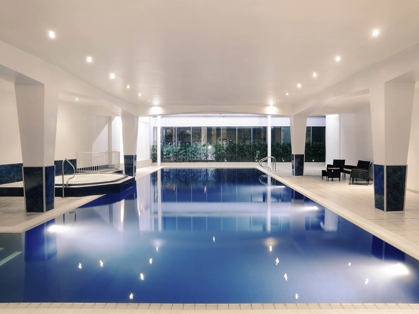 All you need to know – Mercure Cardiff Holland House Hotel Pool 
24-26 Newport Road, Cardiff CF24 0DD
Location: Spa Naturel at the Mercure Cardiff Holland House Hotel & Spa
Parking: On street parking is plentiful and free until 10am so if you're in an earlier class we'd recommend you park on the road.  If you're unlikely to return to your car before 10am please obtain a valid ticket (£2.10). 
There is limited complimentary parking in the hotel car park (beneath the building), available strictly on a 'first come, first served' basis.  Accessed via Howard Place, if the sign at the entrance says the car park is full then please don't attempt to enter!  If there are spaces, take a ticket to lift the barrier and exchange this at the Spa reception for a card to exit the car park when you finish. 
Essential information: 
This pool has a strict NO SPECTATOR rule (sorry).

However there's a really lovely bar area upstairs that sells Starbucks coffee and is the perfect place to relax while you're waiting!  For Swim Academy we have a Parent Spotter rota which enables one parent to be poolside each week; please speak to the office if you're interested.

There are two large changing rooms (one for men and one for women) with showers and lockers.  Unfortunately at this pool there are no family changing areas.  At 8 years old children must change in the same sex changing room.

Due to limited space if it's possible to come without a pushchair/car seat please do, but if you bring one it can be left in the corridor outside the changing rooms. No pushchairs to be brought poolside please.
A well-fitting neoprene swim nappy must be worn with a disposable swim nappy or one of our environmentally friendly NappyWraps & Liners underneath if your child is in Floaties, Splashers or Kickers and in other programmes if they are not potty/toilet trained.
You can buy one of our great value Starter Packs which contain everything you need for your swimming lesson.
Please take all your nappies home - no nappies are to be left in the bins at the pool.
If your baby is younger than 12 weeks or smaller than 12lbs they will need to wear a thermal wetsuit to stop them getting chilly.  We'd recommend that babies up to Kickers age (15 months) wear a thermal wrap to keep them warm.
If you wish you can hire a towel from the Reception for £1.

Exclusivity:
Puddle Ducks have a roped off area; the rest of the pool is open to leisure club members.

Changing rooms:
There are separate changing rooms for Males and Females, both having direct access to the pool
Please use the lockers in the changing rooms (no charge)
Please take all nappies home with you - do not place them in the bins at the pool
We do not recommend you change your young children on the benches, rather bring a change mat or extra towels to the pool and change on the floor.  There is a baby changing table in the disabled changing room (off the main changing room)

Poolside Assistant:
There is no Puddle Ducks poolside assistant at this pool.

Technical information:
Pool temperature: 30°C - this pool does fluctuate in temperature a little. 
Depth: 1.25m
Maximum class ratio: Baby & Preschool - 10 children/adult pairs:1 teacher, Swim Academy Level 1 and 2 - 4 children:1 teacher

Closest café:
There is a lovely café/bar in the Hotel which our customers are very welcome to use, however please bear in mind that only food purchased at the Urban Bar & Kitchen can be consumed there.