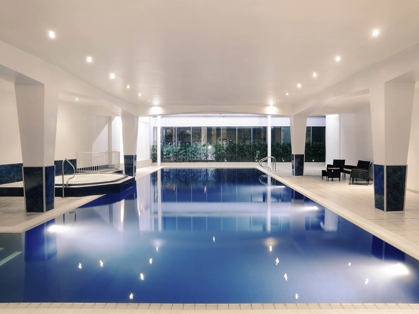 Swimmers MUST read the Covid-related procedures for this pool before they attend lessons, please click here.  
All you need to know – Mercure Cardiff Holland House Hotel Pool 
To BOOK ONLINE for theses classes PLEASE CLICK HERE
24-26 Newport Road, Cardiff CF24 0DD
Location: Spa Naturel at the Mercure Cardiff Holland House Hotel & Spa
Parking: 
There is limited complimentary parking in the hotel car park (beneath the building), available strictly on a 'first come, first served' basis.  Accessed via Howard Place, if the sign at the entrance says the car park is full then please don't attempt to enter!  You must input your car registration at the Spa reception or you will receive a fine (if you register details then parking is free for 2 hours).
On street parking is plentiful and free until 10am so if you're in an earlier class we'd recommend you park on the road.  If you're unlikely to return to your car before 10am please obtain a valid ticket (£2.10 - you can pay with cash or using the MiPermit app). 
Essential information: 
Please do not enter the building more than 10 minutes before your lesson time to allow us to reduce congestion in the changing rooms.
You're welcome to use the changing rooms - you'll need your own padlock for a locker (these can be purchased from the Spa Reception for £5, or bring your own)
Only Spa Naturel members who swim with us are permitted to use the pool before or after their lesson.  Even if you are a member we wouldn't recommend you swim before your class as you might tire your child out before their lesson!
Baby & Preschool classes:
This pool is suitable for babies over 12 weeks/12lbs
We're sorry but no spectators are allowed during Baby & Preschool classes.  You can see the pool from the Spa Reception area so spectators are welcome to wait there during the class.
Due to limited space if it's possible to come without a pushchair/car seat please do, but if you bring a pram it can be left in the corridor outside the changing rooms. No pushchairs to be brought poolside please.  Car seats can be left in the changing rooms under the benches.
Please arrive at the pool 'swim ready' i.e. with swimwear under your clothes.  Please read our full advice

 

here.
A well-fitting neoprene swim nappy must be worn with a disposable swim nappy or one of our environmentally friendly NappyWraps & Liners

 

underneath if your child is in Floaties, Splashers or Kickers and in other programmes if they are not potty/toilet trained.  You can buy one of our great value

 

Starter Packs

 

which contain everything you need for your swimming lesson.
Please take all your nappies home - no nappies are to be left in the bins at the pool.
This pool can vary in temperature a bit - If your baby is younger than 15 months we'd recommend they wear a thermal wetsuit to stop them getting chilly at this pool.  Older children may also benefit from a thermal layer here.
Swim Academy classes:
One Swim Academy parent can accompany each child and remain poolside if you wish, but if you're happy to we'd far rather you waited in the bar area upstairs (just go up the stairs from the hotel reception) - it's lovely up there! There's a strict 'no phones' policy poolside so if you need to use your phone at all then please go to the hotel lobby/lounge area upstairs - make sure you tell another parent where you've gone so we can find you if your child needs the toilet during the class.
We have a Parent Spotter poolside each week who will come and get you if your child needs anything; please ensure they've used the toilet before their class.
Please collect your child promptly from poolside when they've finished swimming - we can't send children into the changing rooms on their own and if you're late it delays the start of the next class.
Exclusivity:
Puddle Ducks have a roped off area; the rest of the pool is open to hotel guests and leisure club members.
Poolside Assistant:
There is no Puddle Ducks poolside assistant at this pool.

Technical information:
Pool temperature: 29°C 
Depth: 1.25m (we use a submerged platform in Swim Academy lessons so that children can stand in their depth)
Maximum class ratio: Baby & Preschool - 10 children/adult pairs:1 teacher, Swim Academy Level 1 and 2 - 8 children:2 teachers