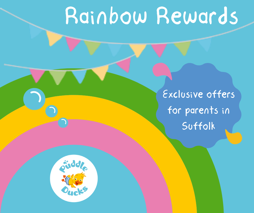 We at Puddle Ducks South Suffolk want to encourage our customers to have fun outside of our swimming classes.  To say a huge thank you we have gathered a group of family based businesses together to offer you Rainbow Rewards!
On mentioning Rainbow Rewards you will benefit from some amazing discounts from some brilliant local businesses offering quality products and services.
Jo Jingles

Jo Jingles offers fun, interactive music, singing and movement classes for preschool children…

With the help of our cheery mascot doll 'Jo' our specially trained and experienced class teachers run the most popular and established music and movement classes across the UK, Ireland and now Australia!

Lasting 30 to 45 minutes, our structured and interactive music and movement classes offer a fantastic educational activity for children from three months to five years of age.

Jo Jingles Ipswich will offer Puddle Ducks customers 10% off their first half term of classes.

Please mention Rainbow Rewards when booking.

 

Learn more

Little Signers

Over the last decade we've been guiding thousands of families and early years settings in the hows and whys of baby signing. 

Learning with us is simple, fun – and brilliantly practical. You'll get all the tips and support you need for signing success. 

Together we've discovered that babies as young as ten weeks can let us know that they want their milk, a nappy change or you (around whom their world revolves) with their tiny hands, without crying. 

And we've found that our signing toddlers are so confident of being understood and so communicative of their needs that tantrums, tears and misunderstandings are removed almost completely.

Many of our lovely families would agree that they bypassed the 'terrible two's' altogether – and find that Little Signers Club is an experience they don't want to come to an end.  

Little Signers will offer 10% off their first term of classes to Puddle Ducks customers.  Please mention Rainbow Rewards when booking.

Learn more

Baby Senses

At Baby Senses all of our baby massage courses are structured and taught by certified Instructor for the International Association of Infant Massage, Ann Lay, who has 10 years experience.

This is a really beneficial 5-week baby massage programme which you can enjoy as part of a small group and is a fun and relaxed session with time to chat about being a parent.  All babies personalities are welcome, crying is allowed in the class, and we encourage you to tend to your babies needs.

We would like to offer all Puddle Ducks customers a 10% discount off a course with Baby Senses by quoting Rainbow Rewards when booking.

We look forward to meeting you in a class soon! www.BabySenses.co.uk'

Maya Rose Photography

Maya Rose Photography specialises in maternity, newborn, baby and family photography and is based in Ipswich, Suffolk.

Newborn sessions are a relaxing, calm experience with me at my home studio and totally baby led. I work with your baby to capture those tiny little details that will change so quickly you literally only remember them by looking at photos.

Family sessions are a fun experience and take place either at my studio or at a beautiful outdoor location producing natural images that you will treasure forever.

Maya Rose Photography would like to offer all Puddle Ducks customers 10% off any photography session and a FREE 10 x 8 print with any photo order.

T&C's Offer valid on full price sessions only. Free print is 10x8 inches and is worth £25. 

Please quote "RAINBOW REWARDS" when booking.