SWIMMING is one of the most AMAZING experiences you can share with your baby!
Babies have a real affinity with water, having spent nine months in the womb, they can be taken swimming from birth, and don't need to have completed their injections (we follow NHS guidlines). From a young age babies love the freedom, massage and gentle exercise that the water offers.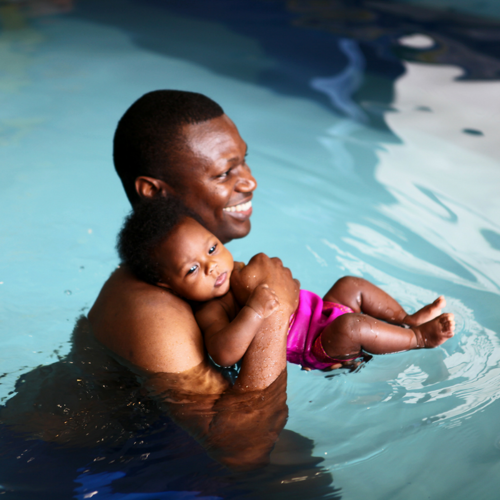 The benefits to both parent and baby of swimming together are immense:
💙Plenty of eye contact
💙Plenty of skin to skin – it's a wonderful way to bond with your baby
💙Helping you and your baby feel relaxed and confident in the water
💙Socially stimulating and fun activity for both you and your baby!
💙Parents who can't swim can enjoy relaxing in the water with their baby
💙Babies learn the importance of water safety, including personal survival. These are invaluable skills to develop at such a young age and will instil a confidence and respect for the water that will last a lifetime.
💙Children we teach can often swim over 10 metres before they start school.
We're very proud to provide a wonderful swimming journey from birth to 10 years.
Our programme is designed by leading baby and child swimming experts and are held at pools across South West London including pools in Tooting, Hounslow, Southfields, Hersham, Chessington, Twickenham and Richmond upon Thames.
Call us on 020 8546 8470 or drop us a line using the form below.
We will help you choose the right class for you and your little one and then be there every step of the way on the wonderful, rewarding journey that is learning to swim.