Baby & Pre-School Teacher Vacancy
Baby & Pre-School Teacher Vacancy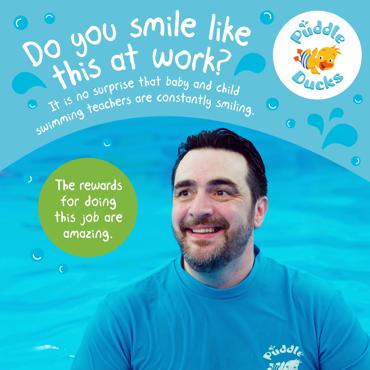 Your chance to do the best job in the world!
We are currently looking for a Baby & Pre-School teacher to join our team on a part-time basis, including weekend work.
No previous experience is necessary as full training is given, but any swimming teaching qualifications already achieved would be a bonus. We offer highly competitive rates of pay and excellent career progression.  We are here to support you with your training at every step along the way. You need to enjoy being in the water and able to swim, have a confident and friendly personality, be flexible and a team worker.
If you are friendly, professional, reliable and looking for a new career, this could be for you.
Becoming a baby swimming teacher is an amazing job! When you work for Puddle Ducks you're part of such an enthusiastic bunch of talented teachers, both locally here and nationally, who give you so much ongoing training and support.
Puddle Ducks Wakefield is a team of teachers, admin and poolside assistants who teach swimming lessons across Wakefield, South Leeds, Sheffield, Bradford and Barnsley to hundreds of customers each week.
Becoming a swimming teacher for Puddle Ducks takes hard work and commitment but brings huge job satisfaction and fits in brilliantly around family life and other work commitments.
You will be required to work weekend sessions and have a car and driving licence.
Please email [email protected] for more information.
I look forward to hearing from you x
What our customers think


<!–START OF TRUSTist REVIEWer CODE – DO NOT CHANGE–><!–END OF TRUSTist REVIEWer CODE–>