Swim Academy Teacher Vacancy
Swim Academy Teacher Vacancy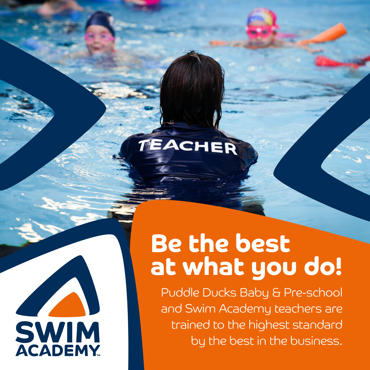 Your chance to do the best job in the world!
Swim Academy teachers teach our primary school-aged children to swim beautifully and love swimming for life. The Puddle Ducks Swim Academy is suitable for children aged 4 to 10 years old, and is the natural progression from our Baby & Pre-school classes.
We teach a natural and smooth swimming style, starting with simple skills that we build gradually along with your child's physical ability and confidence. These are balanced with fun activities that develop various skills, such as life-saving, floating and surface-diving. 
Many of our Swim Academy students go on to swim for organised clubs and take part in competitions - you never know, you might have a future Olympian on your hands!
You will required to work at least one weekend session and have a car and driving licence.
A passion for water, swimming and working with children is a must-have.
For more information, please send an email to faye.burrell@puddleducks.com. I look forward to hearing from you x
What our customers think


<!–START OF TRUSTist REVIEWer CODE – DO NOT CHANGE–><!–END OF TRUSTist REVIEWer CODE–>