Huge Congratulations to Helen who has won our Star Teacher Award Autumn 2022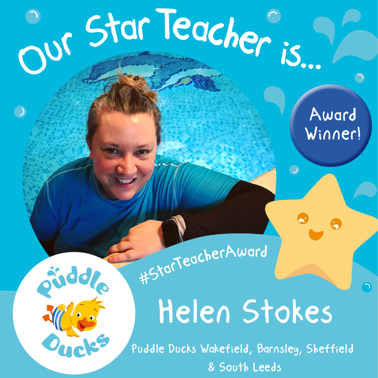 with such a well deserved nomination, chosen by Tracey from
The Baby Fayre South Yorkshire
The Baby Fayre UK
, Tracey had the very difficult job of picking the winning nomination from over 120 that were submitted for our fabulous teachers!
This is what Tracey said ...
"Thank you so much for inviting me to judge the Star Teacher. Wow so many lovely nominations! A real pleasure to read and amazing to hear the difference Puddle Ducks are making to so many families in West & South Yorkshire.
It was incredibly difficult to choose a winner but there was one that stood out for me"
The nomination was sent in by Laura with Imogen who swim at Springs Leisure Centre in Sheffield on a Sunday morning in Little Dippers...
"Helen goes above and beyond to make sure the lessons are inclusive and accessible for our daughter who has hearing loss. She sends outlines of the lesson plan every week so that we know exactly what to expect, and signs during the lessons to ensure our daughter can understand instructions when she doesn't have her hearing aids in. We're delighted to have found Puddle Ducks and feel very lucky to have Helen as our teacher"
Tracey said, "I completely agree with the words 'she goes above and beyond'. It was so delightful to read how a child with additional needs is made to feel included and welcome like all the other children. To read that she signs the instructions in class is just fabulous as well as supporting the parents as much as possible too by preparing them with the lesson plan ahead of each session. I would love to choose this teacher as your winner. A true credit to Puddle Ducks. Well done! Keep on doing what you do Puddle Ducks"
All our teachers do go above and beyond for their customers and care so much, and in this case Helen really has, not only producing some visual cards for Imogen for the class, but also learning some sign language and sending through a very detailed plan of the lesson every week. Helen you are amazing, a true star and we are all so lucky to have you ❤❤. (I didn't cry ...honest) Faye xx